The future wardrobe: Future workshop method in designing clothing for 2045
Grönblom, Helena (2017)
---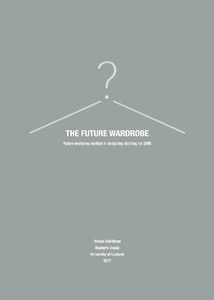 Lapin yliopisto
2017
openAccess
Julkaisun pysyvä osoite on
http://urn.fi/URN:NBN:fi:ula-201705151176
Tiivistelmä
This research is a qualitative, multi-disciplinary study about designing clothing for the
future with future workshop method. Futures studies works as a theoretical and
methodological framework for the research. Clothing design gives the context and
perspective to the subject. A group of clothing design students, clothing designers of the
future, participated the Future Wardrobe Workshop that was organized to collect the
research data.
The main research question is: How could designers know already today what
should be inside the future wardrobe and make decisions that would lead us towards the
preferable future of clothing? The main question is too broad to be fully answered in
this research, therefore one method, future workshop, is on focus. The method is
approached from a clothing design point of view and used as a tool to create images of
the future wardrobe.
The data consists of questionnaires which the participants of the Future Wardrobe
Workshop answered afterwards, supported with video and photo material from the
workshop. Summarizing content analysis model by Philipp Mayring is used as a method
to analyse the data.
The results show that general images of the future wardrobe can be created in
future workshops but for more detailed scenarios additional methods should be used.
The workshop participants' view is that there is potential in collaboration between
futures studies and clothing design, and that studying the future wardrobe is important.
Tutkielma on laadullinen, monialainen tutkimus tulevaisuuden vaatetuksen
suunnittelusta käyttäen tulevaisuustyöpajamenetelmää. Tulevaisuudentutkimus toimii
tutkimuksen teoreettisena ja metodologisena viitekehyksenä. Vaatetussuunnittelu antaa
kontekstin ja näkökulman aiheeseen. Ryhmä vaatetussuunnittelun opiskelijoita,
tulevaisuuden vaatetussuunnittelijoita, osallistui Future Wardrobe Workshop –
työpajaan, joka järjestettiin tutkimusaineiston keräämistä varten.
Päätutkimuskysymys on: Miten suunnittelijat voisivat tietää jo nyt mitä
tulevaisuuden vaatekaapin sisällä tulisi olla ja tehdä päätöksiä, jotka johtaisivat
ihanteelliseen tulevaisuuden vaatetukseen? Pääkysymys on liian laaja, jotta siihen
voitaisiin täydellisesti vastata tässä tutkimuksessa, joten valittu menetelmä,
tulevaisuustyöpaja, on tutkimuksen keskiössä. Menetelmää lähestytään
vaatetussuunnittelun näkökulmasta ja käytetään tulevaisuuden vaatekaapin
tulevaisuudenkuvien luomisen välineenä.
Tutkimusaineisto koostuu kyselyvastauksista, jotka kerättiin työpajan osallistujilta
työpajan jälkeen, sekä työpajan aikana tallennetusta video- ja kuvamateriaalista.
Aineistonanalyysimenetelmänä toimii sisällönanalyysi Philipp Mayringin mallia
soveltaen. Tutkimustulokset osoittavat, että yleisiä tulevaisuudenkuvia tulevaisuuden
vaatekaapista voidaan luoda tulevaisuustyöpajoissa, mutta yksityiskohtaisempia
skenaarioita luodessa lisämenetelmiä tulisi käyttää. Työpajan osallistujien näkemyksen
mukaan tulevaisuudentutkimuksen ja vaatetussuunnittelun yhteistyöllä on potentiaalia,
ja tulevaisuuden vaatekaapin tutkiminen on tärkeää.
Samankaltainen aineisto
Näytetään aineisto, joilla on samankaltaisia nimekkeitä, tekijöitä tai asiasanoja.
Stępień, Adam

ArCticle :

4/2016 (

2016

)

Luotola, Hanna

(

Lapin yliopisto

,

2010

)

The emergence of Web 2.0 technologies has empowered employees by facilitating the user-generated and user-centered content into work culture. This has lead to fundamental changes in people's ability to share their ideas ...

Oikeustieteiden tiedekunta; Saarenpää, Ahti; Wiatrowski, Aleksander

(

Lapin yliopisto

,

2016

)