Sociocultural sustainability of rural community-based tourism : case study of local participation in fair trade coffee trail, Nicaragua
Höckert, Emily (2009)
---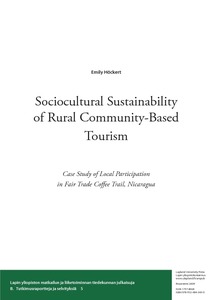 2009
ISBN:978-952-484-343-0
Lapin yliopiston matkailun ja liiketoiminnan tiedekunnan julkaisuja B. Tutkimusraportteja ja selvityksiä
openAccess
Julkaisun pysyvä osoite on
https://urn.fi/URN:NBN:fi:ula-2011391085
Tiivistelmä
Rural community-based tourism (turismo rural y comunitario) is smallscale tourism in poor rural areas, where the local people are active actors in tourism development. It is often perceived as a sustainable and responsible form of tourism. However, in practice the planning and evaluation of the tourism development is often concentrated only upon rapid economic and environmental impacts and the sociocultural signifi cance is left without proper attention. The issues about sociocultural development have not been considered seriously enough in alternative tourism contexts. This study aims to fi ll this gap by bringing together cultural studies of tourism and studies of development. The starting point of this study is that ustainable tourism development cannot take place without social justice and active local participation.

The purpose of this research is to analyze the sociocultural possibilities and challenges of rural community-based tourism development in the host communities. This research has an ethnographic approach and it includes a field study in three communities of Fair Trade Coffee Trail in San Ramón, Northern Nicaragua. The idea for the tourism development was born after the coffee price crisis in 2001, given that the main objectives of tourism were to bring complementary income to the poor coffee farmers and to promote equal participation inside the communities. Data for the sociocultural impact analysis was collected through 23 semi-structured interviews and participatory observation during four week period of fi eldwork in 2008.

The results of this study support the assumption that the real essence of rural community-based tourism is its potential to promote people's control over factors that affect their lives – in other words to support empowerment. In San Ramón tourism development had especially brought new opportunities to the young people working as guides and to the women responsible for the tourism accommodation. Women and young guides had been able to enhance their self-esteem and freedom of choice through new contacts, knowledge, new skills and cultural pride. The encounters with visitors had been mainly positive. Alternatively, the weakness in the local broker's coordination had threatened the whole tourism development. The sociocultural benefi ts of tourism had not reached the community level and therefore had not promoted the social empowerment of communities.

The results of this study can encourage and help development agencies to support community-based tourism initiatives as a tool of sustainable development. Developing a holistic guideline for rural community-based tourism development presents a challenge for further studies.
Kokoelmat