Lukiolaisten terveydenlukutaidon ja terveysarvostusten ilmeneminen : laadullinen sisällönanalyysi vuoden 2007 terveystiedon ylioppilaskirjoitusten reaalikokeen vastauksista
Rask, Maija (2012)
---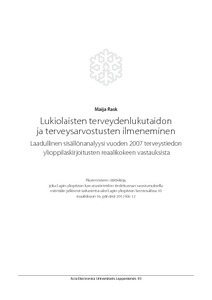 Lapin yliopisto
2012
Acta electronica Universitatis Lapponiensis
openAccess
Julkaisun pysyvä osoite on
https://urn.fi/URN:NBN:fi:ula-201203201057
Tiivistelmä
Tutkimukseni tarkoituksena on selvittää lukiolaisten terveydenlukutaitoa ja terveysarvostuksia ylioppilastutkinnon vuoden 2007 terveystiedon reaalikokeen vastausten avulla.
Teoriaosa rakentuu terveyden edistämisen ja terveyskasvatuksen maastoon, jossa terveystieto ja terveydenlukutaito painottuvat. Luon katsauksen terveysopetuksen historiaan Suomessa ja terveysopetukseen muissa maissa. Selvitän terveystieto-oppiaineen kehittymistä ja valotan terveydenlukutaitokäsitettä.
Tarkastelen lukiolaisten terveysosaamista terveydenlukutaidon tasojen avulla. Tutkimuskysymyksiä on kolme: 1) millaisena lukiolaisten terveydenlukutaito näyttäytyy terveystiedon reaalikokeen vastauksissa? 2) miten terveydenlukutaidon eri tasoilla olevat opiskelijat kuvaavat terveyden olemusta? 3) millaisia terveysarvostuksia on havaittavissa lukiolaisten terveystiedon reaalikoevastauksissa?
Varsinainen tutkimusaineistoni koostui 611 terveystiedon esseevastauksesta, jotka koskivat yhteensä kahdeksaa terveystiedon koetehtävää. Tutkimuksessani oli mukana kevään 2007 kirjoituksista 81 ja syksyltä 60 abiturienttia, yhteensä 141 henkilöä. Heistä 37 oli miestä ja 104 naista. Osallistuneiden iät vaihtelivat 18:sta 20:een vuoteen.
Tarkastelin aineistoa laadullisen sisällönanalyysin avulla. Tutkimusotteeni oli fenomenologis-hermeneuttinen ja päättelyn logiikkana hyödynsin sekä abduktiota että deduktiota. Analysoinnissa tukenani olivat terveydenlukutaidon ja Bloomin taksonomian tasot sekä lukion opetussuunnitelman perusteiden terveystiedon oppimistavoitteet.
Oli hyvin haastavaa tutkia reaalikoevastauksista lukiolaisten terveydenlukutaitoa. Tulkinnallisesti vaikeinta oli tehdä johtopäätöksiä toiminnallisesta terveydenlukutaidosta, koska terveystiedon ylioppilaskoe ei mittaa lukiolaisten terveyskäyttäytymistä vaan opetussuunnitelman perusteiden mukaisia tietoja ja taitoja sekä lukion tavoitteiden mukaista riittävää kypsyyden hallintaa terveystiedossa.
Esitän tutkimuksessani neljännen terveydenlukutaidon tason, joka sijoittuu perusterveydenlukutaidon, toiminnallisen ja kriittisen terveydenlukutaidon yläpuolelle. Neljännelle tasolle yltävän lukiolaisen vastauksessa näkyvät suvaitsevaisuus, kulttuuri- ja ympäristötietoisuus sekä huoli maailmantilasta. Kokonaisvaltainen terveydenlukutaitotaso heijastaa humaania maailmanparantajuutta.
Ylioppilaskoevastauksista suurin osa ilmensi toiminnallisen terveydenlukutaidon tasoa. Lukiolaisten reaalikoevastauksista löytyi Erik Ahlmanin arvotyypittelyn mukaisia terveysarvostuksia, joiden perusteella voi todeta, että kokelaat kirjoittivat arvostavansa koulutusta ja pitivät tärkeänä, että ihminen ottaa itse päävastuun terveytensä hoitamisesta. Vastauksissa näkyi, että lukiolaiset kaipaavat keskusteluja ja yhteistä aikaa vanhempiensa kanssa. Vastauksissaan lukiolaiset kritikoivat vahvasti median luomaa utopistista ja laihuutta korostavaa kauneusihannetta mutta pitivät median tarjoamia virtuaalisia keskustelumahdollisuuksia hyvinä. Vastausten perusteella terveystiedon oppitunteja tulisi lisätä.
Tutkimustuloksia voi hyödyntää terveystieto-oppiaineen kehittämisessä. Tulevaisuuden tärkeimpiä haasteita on saada terveystiedon oppitunnit määrällisesti vastaamaan tavoitteita, saada miehet kiinnostumaan terveystiedon opetuksesta ja pitää terveystiedon opetus ajanmukaisena.
The Manifestation of General Upper Secondary Education Students' Health Literacy and Health Appreciation. A Qualitative Content Analysis on the Answers concerning the Subject of Health Education in the General Studies Battery of Tests in the Matriculation Examination 2007.
The purpose of my research is to study general upper secondary education students' health literacy and health appreciation by analyzing their answers concerning the subject of health education in the general studies battery of tests in the Finnish matriculation examination 2007.
The theory part covers the themes of health promotion and health education with the emphasis on the subject of health education and health literacy. The history of health education in Finland and the present state of health education in other countries are reviewed. The development of the subject of health education is dissected and the concept of health literacy is introduced.
In this research, I analyzed general upper secondary education students' health-related knowledge through the levels of health literacy. Three research questions were set: 1) What is general upper secondary education students' health literacy like according to the answers concerning the subject of health education in the general studies battery of tests? 2) How do students at various levels of health literacy describe the essence of health? 3) What kind of health appreciation can be found in general upper secondary education students' health literacy according to the answers concerning the subject of health education in the general studies battery of tests?
The research data consisted of 611 essays that were the test answers in health education. The essays covered altogether eight questions about health education. 81 candidates for the spring 2007 matriculation examination and 60 candidates for the fall 2007 matriculation examination participated in this research; altogether 141 candidates. 37 of them were men and
104 were women. The participants were aged between 18 and 20 years.
The data was analyzed through qualitative content analysis. The research approach was phenomenological-hermeneutic and both abduction and deduction were employed when drawing conclusions. The analysis leaned on the levels of health literacy and Bloom's taxonomy as well as on the learning objectives of the national core curriculum for health education in general upper secondary education.
It proved quite challenging to analyze general upper secondary education students' health literacy from their answers in the general studies battery of tests. When considering interpretations, the most difficult part was to draw conclusions about functional health literacy because the matriculation examination does not measure students' health behavior but the knowledge and skills written into the national core curriculum and the sufficient level of maturity in health education defined in the objectives of general upper secondary education.
Based on the results, I introduce the fourth level of health literacy which is located above the levels of basic, functional, and critical health literacy. The answers that reach the level four feature liberality, cultural and environmental awareness, and concern about the world situation. The holistic level of health literacy represents humanitarianism and the aspiration of promoting human welfare.
Most of the answers in the matriculation examination represented the level of functional health literacy. The candidates' answers included health appreciation that conformed to Erik Alhman's classification of values based on which it is possible to state that the candidates appreciated education and found it important that people take the main responsibility for taking care of their own health. The answers showed that the general upper secondary education students yearned after discussions and shared time with their parents. In their answers, students strongly criticized the utopian
and slimness-centered beauty ideal created by the media but regarded virtual discussion forums as good. Their essays imply that more health education should be provided at school.
The research results can be utilized when developing the subject of health education. The most important challenges in the future are to meet the goals set at health education with the present time allocation, to get men more interested in the subject of health education, and to keep the instruction of health education updated.