Globalizing resistance against war? : a critical analysis of the theoretical debate through a case study of the "new" anti-war movement in Britain
Seppälä, Tiina (2010)
---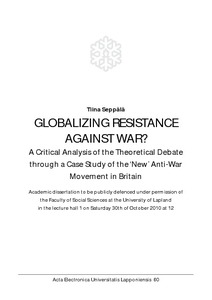 Lapin yliopistokustannus
2010
ISBN:978-952-484-421-5
Acta electronica Universitatis Lapponiensis
openAccess
Julkaisun pysyvä osoite on
https://urn.fi/URN:NBN:fi:ula-20112101066
Tiivistelmä
The study engages with a controversial theoretical debate on 'global resistance' in the context of the anti-war movement. Through an empirical case study of four anti-war organizations in Britain, the thesis critically evaluates dominant globalist theoretical discourses and their state-centric critiques from the perspective of 'critical theory in political practice' and seeks to develop the theoretical debate further. Acting as a critical mediator in between the metatheories and micropolitics of resistance, the author examines how the theoretical discourses 'resonate' with the premises of the current anti-war movement; what the theories fail to consider in terms of political practice; and to which extent the values and normative visions embedded in their broader political projects relate to the movement.

The research demonstrates that the connection between the theories and the political practice is not only inadequate but also problematic in many regards. The divergences between the globalist frameworks and the premises of the movement are particularly substantial; convergence with the state-centric approach is found more often. Although it also succeeds in illustrating serious problems in the globalist frameworks, the thesis argues that the state-centric approach is not without problems either. All three theoretical approaches have a problematic tendency to resort to a dualistic 'either-or' logic in conceptualizing power, effective strategies and the primary context of resistance which represents a clear diversion from the understandings held within the movement where analyses and conceptions are overlapping and mixed, echoing often a 'both-and' approach. The globalist frameworks are problemactic also because in conceptualizing the multitude and global civil society as consensual global political collectives, they fail to take into account political conflicts and power struggles within the movement. The study shows that below the surface there are many political conflicts and struggles going on. Transforming the movement into something more permanent and global is an extremely challenging endeavor, one that cannot be established 'from above'.

Instead of defining their political projects of resistance in a way which enables their conceptualizations to be detached from practice and their normative visions and suggestions to diverge from the premises of the movement, the theories must closely engage with the movement in order to establish an emancipatory dialogue in the true sense of critical theory. The study contributes insights for developing the theoretical debate further, suggesting that a 'both-and' approach instead of an 'either-or' would not only reflect more accurately how the relationship between the local and global – and many other concepts as well – are conceived within the movement, but would also provide a more productive and comprehensive perspective for conceptualizing power and resistance in the context of social movements generally. While revealing many ongoing political conflicts and power struggles between the organizations studied, the thesis brings forward problems and tensions also within the movement and suggests it would benefit from a more open discussion about the complex relationship between unity and diversity.