Managing local networks : impacts of network management on the implementation of new public management and citizen participation
Saarelainen, Tarja (2003)
---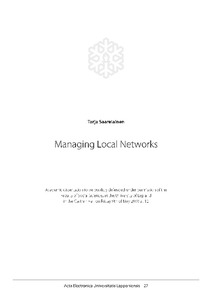 Lapin yliopisto
2003
ISBN:978-952-484-154-2
Acta electronica Universitatis Lapponiensis
openAccess
Julkaisun pysyvä osoite on
https://urn.fi/URN:NBN:fi:ula-20111131013
Tiivistelmä
This study reports on an examination of networking at the local level. The study particularly addresses the use of networks in the delivery of local services and the problems that arise for managing the networks. Networks are usually connected to flexibility in collaborative arrangements between public, private and non¬governmental organisations in service delivery. However, the networks are also connected with hierarchies in local governments and to market actions. Networks are perhaps not as self-steering as it is wished. Actually, networking might be difficult and time consuming, and it may not produce the outputs or outcomes expected by different stakeholders. Therefore, it is important to make the processes in networks more visible in order to evaluate how networks create good local governance by network management. The first study question concerns the task of network management by local governments.
Networking at the local level cannot be separated from public management reforms such as "new public management". NPM has strongly affected the renewal of public organisations by emphasising that governments' expenditures must be reduced and the efficiency and effectiveness of public organisations must be increased. Thus, the aims of NPM create the desired policy objective for public organisations. The second study question examines network management by furthering the aims of NPM.
At the same time, it has been realised that positive social capital is a valuable fund for organisations. Emphasising funds other than money - such as the skills of citizens, reciprocal rules and norms, and group identity in communities - as a resource for delivering services, local authorities have turned to benefit from the sources of social capital. The third study question deals with the concern of whether network management furthers the citizens' participation in service delivery.
The study has a two-fold purpose: conceptual and empirical. On the one hand, the study provides a conceptual framework for network management at the local level. In doing so, it uses studies about policy networks as a theoretical base. On the other hand, the study describes networks that form the structure of service delivery or aim to develop the service delivery system. Empirical evidence has been collected by questionnaire from 106 respondents living in the Rural Municipality of Rovaniemi in Finland and from 100 respondents in the Rural Municipality of Moravia in Poland. In addition, interviews with professionals and documents produced by both communities, has been used.