The representations of social support from external resources by families raising children with severe disability in connection with dolphin assisted therapy
Kreivinienė, Brigita (2011)
---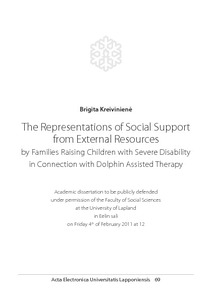 Lapin yliopistokustannus
2011
Acta electronica Universitatis Lapponiensis
openAccess
Julkaisun pysyvä osoite on
https://urn.fi/URN:NBN:fi:ula-2011611139
Tiivistelmä
This thesis is focused on the analysis of the representations of social support by families raising children with severe disabilities. The family situation is perceived as uncertain with problems occurring when dealing with them requiring social support from external resources.

The understanding of social support is conceptualized by House (1981, cited in Peterson et al., 2009) and Tardy (1985, cited in Malecki and Demaray 2002, 1) who divide its content into emotional concern, instrumental aid, information, and appraisal. The concept of social support is used as unified in the defi ning of support from external resources. The main external resources are held to be the medical, social and educational systems, as defi ned in the Law of Social Integration of Disabled People (2005) of the Republic of Lithuania. Dolphin Assisted Therapy was engaged as a system taking a window place for analysing social support on a legitimized social support basis.

The thesis focuses on investigations into representations by families of social support during stressful periods of their lives, when social support acts as a stress-buffer. Therefore, external resources are seen as reducing the negative eff ects of the causes of stress. Fisek et al. (1991, cited in Bonito, 2007) puts forward the idea that the evaluation of social support is based on the personal perception of conceived competence. This approach gives the meaning of representations as subjective perceptions by families in the analysis of their belief that social support will be available during stressful periods of their lives and when stress did occur how it was handled by external resources.

Representations of social support by ten families raising children with severe cerebral palsy were analysed. Research was focused in particular on gathering data on the historical approach to families. Interviews encompassed representations by families of social support from registering their child for Dolphin Assisted Therapy to the coming of their perceived projection of the future.

Social work is perceived as mediating in external resources. Applied Scandinavian activity theory allowed the reconstructing of Engerström's (2007) schema for revealing the position of the social worker in a Lithuanian context due to the representations by families.