Bridging the islands of society : modeling delinquency prevention through optimization of social support
Rimkus, Valdas (2011)
---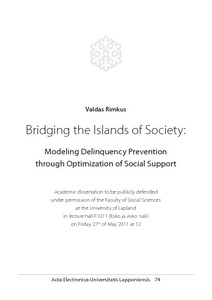 Lapin yliopistokustannus
2011
Acta electronica Universitatis Lapponiensis
openAccess
Julkaisun pysyvä osoite on
https://urn.fi/URN:NBN:fi:ula-2011671143
Tiivistelmä
The purpose of the meta-analysis is to present a theoretical model of social work interventions within the process of juvenile delinquency prevention. The study approaches delinquency prevention as the process of increasing the amount of social support measures applied by parents and other members of adolescent social network. The main research question of the meta-analysis is: how can optimization of social support enhance the process of delinquency prevention?

The meta-analysis draws on two surveys of opportunity samples of delinquent juveniles from Klaipėda and surrounding districts of Lithuania. The fi rst quantitative survey included 73 delinquent juveniles (plus 95 non-delinquents as a control group). The second survey was qualitative and included a sample of 10 delinquents. The results of the research emphasize that reasonable number of today's families fail to provide children with support necessary for successful socialization, formation of behaviour models and value systems. Delinquent children tend to live in less cohesive, structurally unfavourable families, where the balance of support and control is disturbed. Their parents utilize more direct means of control (homework checking, direct intervention, punishments, scolding), while supportive relations are underutilized. Rather formal delinquents' relationships with their parents, which bear an obligatory nature and low level of perceived support from siblings also add to the overall unfavourable support situation in the family.

Resting on research results frameworks for early and direct prevention including measures to increase supportiveness are presented. The framework of early prevention is based on stages of more general model of social development and list of circumstances unfavourable for social support, while direct prevention rest on system characteristics favourable for social support and control.

Three aspects of social support's eff ect on delinquency prevention are distinguished. Firstly, social support requires involvement of natural network (or community, in other words) into the process of delinquency prevention. Secondly, social support, as concept indistinguishable from social network, enhances the systemic (holistic) perspective in juvenile delinquency. And thirdly, systemic nature of social support coherently supplements the practice of social work and provides clear outlines for its activities.