This child is also mine : a narrative approach to the phenomenon of atypical custodial grandparenthood
Malinauskas, Gedas (2011)
---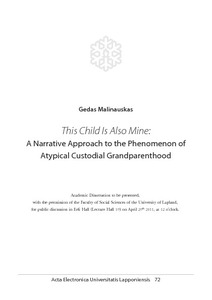 Lapin yliopistokustannus
2011
Acta electronica Universitatis Lapponiensis
openAccess
Julkaisun pysyvä osoite on
https://urn.fi/URN:NBN:fi:ula-20115241132
Tiivistelmä
The aim of the study is to render the nature of narrated world of human experience. The narrative approach was researched through the phenomenon of empirical world, i.e. atypical custodial grandparenthood in Lithuania when grandparents raise their grandchildren due to external migration of their children. Grandparents involved in the research were telling incoherent narratives about lived events and experiences; therefore the objective of the study was to discover and to detail narrative approach which would help understand grandparents' way of telling and their experiences of transitional life situation.

It took two years to enter the research field, because there was no official data about grandparents raising their grandchildren; it was also not clear how to get in touch with them in 2006. The research material consists of 12 interviews with grandparents, who took care of small grandchildren (up to the age of 7) for longer than 3 months. The method of active conversation was used to disclose the meaning that grandparents related with their experiences and lived events during transitional life situation. The majority of narrative studies in social sciences do not provide description of clear steps of narrative analysis, the particular and detailed process of data analysis was developed throughout the study: a) text segmentation, interpretation of meaning and reconstruction of individual narratives; b) reconstruction of grandparents' coherent narratives.

Through the process of reciprocal synergy of theory and narrative methodology, the research analysis contradicted the primary understanding of grandparents' stories as incoherent. It emerged that grandparents constructed narrative in an elaborative manner, i.e. their stories centered round the most meaningful events and experiences. Grandparents' narratives were grounded on family experience; their attitude towards transitional life situation was rooted in family culture, which helped assume responsibility in caregiving naturally. Interpretation of grandparents' way to use language to construct meaning revealed that they were still living in the sore moments of transitional life situation. Nevertheless, grandparents pursued to prove their capability to take care of small grandchildren, and the most important meaning of narratives constructed was that they treat grandchildren as their own children. Interpretation of modes of narrativity revealed that grandparents told stories led by inner narrative, or construt meaning in the interaction, during interviews with the researcher. Study develops the narrative conception that people create the meaning of lived events and experiences through various modes of narativity (interaction, adoption and inner reflection) and through adoption of language toolkit (emplotment, temporality, focalization and social context).