People, international projects and public administration : interpreting the international human resource management frame
Kivivirta, Ville (2014)
---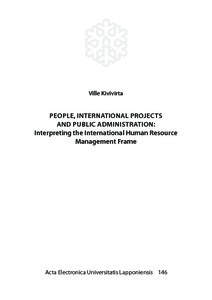 Lapin yliopisto
2014
ISBN:978-952-484-732-2
Acta electronica Universitatis Lapponiensis
openAccess
Julkaisun pysyvä osoite on
https://urn.fi/URN:ISBN:978-952-484-732-2
Tiivistelmä
International public sector projects bring the Finnish public sector into contact with management thinking related to international assignments and international project work. In business literature especially practices related to IHRM have been posited as a potential avenue for making sense of international work experience of individuals and providing the formation of more systematic management practices. IHRM research in business schools is well established, but IHRM research focusing on the international people aspects of public administration is scarce.

Drawing on a reflexive analysis of management literature and empirical material produced in a qualitative interview study of Finnish public sector international project professionals within the EU funded Twinning projects, this thesis argues that in public sector context IHRM is a mixed blessing. Mainstream accounts about international assignments and international project work are problematised in the research using IHRM as a cultural frame that includes the elements of international assignment cycle and project HRM practice areas.

The results show that identity construction that has taken place during international assignments might not be accommodated after repatriation to Finnish public sector work, and that the role of international projects in developing personnel was often viewed to be a missed opportunity. From management perspective projects were viewed to be resource-intensive and somewhat detached from other public sector activities. Furthermore, postcolonial dynamics and failures to interpret bureaucratic scripts in international project work prompt an element of potential friction that should be addressed more thoroughly.

Considering these findings, it is concluded that IHRM vocabulary must be enhanced when translated into public sector project environment. Building mainly on concepts in social anthropology and pragmatist philosophy, it is suggested that IHRM frame can be conceptualised as a boundary object between administration cultures. It is suggested that an approach to IHRM that would go beyond managerial thinking should be further developed. In this incorporating an element of critical reflection of the metatheoretical assumptions would enable IHRM to become more 10 People, International Projects and Public Administration aware of its caveats. With such a conceptualisation of IHRM in place, the focus shifts to operating in between the different administration ultures, in the interstitial, and to reflecting actor's own position.