Covert codes of women in prostitution : pathways for recovering roots after trauma interface
Puidokiene, Dalia (2012)
---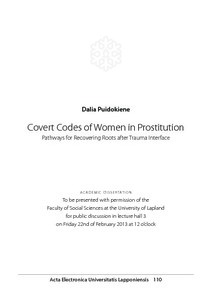 Lapin yliopistokustannus
2012
ISBN:978-952-484-609-7
Acta electronica Universitatis Lapponiensis
openAccess
Julkaisun pysyvä osoite on
https://urn.fi/URN: ISBN: 978-952-484-609-7
Tiivistelmä
The aim of this study is to analyse the life stories of women in prostitution from childhood to adulthood revealing their personal experiences, which unfold by the main, specific life patterns that this study silhouettes. The obstacles they faced while growing up, the choices they made to decide whether or not to disengage from
prostitution and the help they sought are the main areas of focus in this study, which examines how those women managed to live through their life experiences. A more general aim of this study was to provide a "voice" to a woman in prostitution revealing what it means to be a woman who is a victim of prostitution.

The issues regarding women in prostitution as well as women trafficked for purposes of sexual exploitation often gain significance as a multidimensional problem in our country. This is especially so, when different opinions come from various, contradictory representations. Our society considers prostitution and women in prostitution as existing by two scenarios, relevant to morality and relevant to free choice. Therefore reactions to the behaviours of women in prostitution or to them themselves constitute an odd sort of mix involving insistence on punishment, apathy and an effort to control these women. These sorts of thought patterns cause society to react to women in prostitution by punishing or trying to control them. The individuality of these women's experiences and the complexity of their problems within their multi-faceted realities are brushed aside. Unfortunately this means that getting to know the women and their experiences is also brushed aside. This blocks any sort of deeper understanding and, at the same time, any more effective resolutions of their essential problems.

The research materials consist of semi-structured, in-depth interviews with fifteen (15) women in prostitution about their personal experiences, some of these women's letters and materials on observations. The research field notes and the observational materials were gathered by conducting interviews and holding meetings with various "players" on the local scene, analysing project work phenomena and observing some of these women's "work places". This study also involves my personal experiences relevant to my direct encounters with women in prostitution and their personal experiences, as I sought to discover and illuminate the nature and meaning of such a phenomenon of exploitation. These women's personal experiences were understood throughout their transmitted subjective interpretations, which they verbally "lived through" once again. This study involves my reintegration of derived knowledge applying the discovery and synthesis of my intuition and tacit understanding, as I portray my research participants and their personal experiences in a holistic manner. The existential approach to research with a fundamental holistic conception grounds the heuristic strategy that was applied while studying the personal life experiences of women in prostitution in "natural" settings, as I provided psycho-social help to them. I followed the heuristic research design that includes six phases of investigation: the initial engagement, immersion into the
topic at issue, incubation, illumination, explication and culmination of the research for creative synthesis.

An interactional model of social work practice, social cognitive and trauma theories base the theoretical framework of this study. Three core ideas of the interactional model of social work practice guided the discovery of the facts involved in the personal experiences of women in prostitution, which I refer to as heuristics. These
three ideas are (a) a belief in the symbiotic relationship between people and their social surroundings, (b) some mutual need blocked by obstacles—as per a client and others in light of the systems the client must negotiate and (c) the strength of needed change. These ideas allowed me to formulate and test new solutions for social
work problems. The main ideas involved in the social cognitive theory, where the nature of a person is defined by the "number of basic capabilities" such as symbolising, thinking in advance, vicarious, self-regulatory and self-reflective, were the guides for the situated and contextualised views on the personal life experiences of
women in prostitution. Moreover what encouraged me to explain and highlight the necessary changes that must be transferred into social work practice during the help process for such clients was the support of the social cognitive theory. Explicated attributes of the trauma theory were also incorporated into the theoretical framework,
which were then explored as characteristic/incidental and significant obstacles in the personal experiences in the life of a woman in prostitution. The trauma theory enabled a critical perspective and exploration on how the certain aspects of trauma, distinguished according to complex post-traumatic stress disorder (CPTSD), were
deeply ingrained in the personal experiences of women in prostitution, which then impelled or directed their behaviours, relationships and resources for changes.