Transaction as interaction : art as an extended sense of space
Schülke, Bettina (2017)
---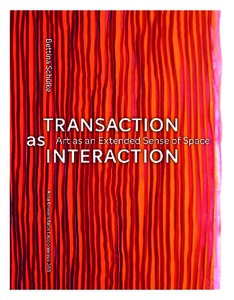 Väitöskirjaan kuuluu kolme videota: Satellites, Outposts, and a Ridiculous Leap of Faith ; Liquid Thoughts ; Highway #4
Lapin yliopisto
2017
ISBN:978-952-484-991-3
Acta electronica Universitatis Lapponiensis
Julkaisun pysyvä osoite on
https://urn.fi/URN:ISBN:978-952-484-991-3
Tiivistelmä
This doctoral dissertation explores how an extended sense of space is understood in visual artistic expression. Therefore, it investigates a variety of spatial concepts, how they are in the process of change and the reasons for that. Initiated by technological developments space is extending from the physical to the virtual space and a body-centered spatial and temporal experience is getting increasingly replaced by immateriality, non-location and a technology driven perception. Concepts related to the spatial turn (Soja), human geography (Yi-Fu-Tuan), sociology (Löw) and media theory (Fassler, Weibel) build the ground for the theoretical discussion. The second focus investigates the relation between space and textiles. This topic is discussed on the basis of smart textiles, explores the relation between textiles and technology and investigates them as a form of what has become known as "new materialism".

An interdisciplinary approach characterizes this practice-based research whose foundation is formed by the creative artistic process and the development of the artworks. By means of embodied experiences and the added element of motion and temporality, three artistic projects, TRANSACTIONs 1–3, explore the notion of an extended sense of space. Based on the artistic concept of TRANSACTION a variety of artistic media have been included. These are textile art, site-specific installation, drawing, painting, collage, cut-outs, photography and video. The interplay between two- and three-dimensionality, still and moving images, and the relation between space and time served to examine the research topic from various artistic perspectives. Inspired by the theories of Michel Foucault, Etienne-Jules Marey, Anne Friedberg, Ada Lovelace, and Edwin A. Abbott, the artistic work of this study is seen as the key element for defining the theoretical aspects.

In the research process the concept of INTERACTION developed, which can be seen as a key for combining results from theory and practice. It refers to the artistic concept of TRANSACTION and can be seen as major element in the discourse with the topic of space. One of the theoretical outcomes is the concept of hybrid spatial realities, which arises when different spatial concepts overlap or merge, or interact with each other. Characterized by an ongoing flux of notions they take a leave from rigid spatial concepts. As major finding related to the research question that is: "How can an extended sense of space be interpreted in visual artistic expression?" I consider the in-between spaces, which I identified as a form of an extended sense of space. Common ground of the several findings is the major impact of digital media on an altered spatial understanding and experience.