Event co-creation as choreography : autoethnographic study on event volunteer knowing
Haanpää, Minni (2017)
---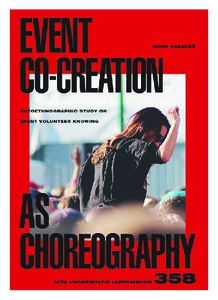 Lapin yliopisto
2017
ISBN:978-952-337-024-1
Acta electronica Universitatis Lapponiensis
openAccess
Julkaisun pysyvä osoite on
https://urn.fi/URN:ISBN:978-952-337-024-1
Tiivistelmä
Events are an ever-growing phenomenon in contemporary society. They are used to make different places and spaces more visitable and to market places, products and services. Volunteers are often a significant social and economic interest group in the creation of events and festivals. The significance of the group has been recognised in event (management) literature, but little attention has been paid to the group's knowledge and its role in event creation. Volunteers have mostly been considered as manageable objects, and the group's knowledge and agency have been excluded.

This research focuses on volunteer knowledge and its role in the implementation of events. The research task is tackled by using the concept of co-creation to examine the event context. Co-creation discussion, originating from services marketing, relies heavily on the concept of knowledge in explaining value-creation for different offerings. In this study, event and festival environments are understood as co-creational arenas where actors practice their knowledge. To further the idea of knowledge in co-creation discussion the concept of choreography is used as an analytical framework. The concept originates from cultural and performance studies and gives access to the relationship between place, space, experiences and knowledge. Choreography constructs knowledge as active doings performed through the body that is referred to as 'knowing' in this study.

Empirically, the phenomenon of volunteer knowing is explored through a multi-sited, longitudinal affective autoethnography, based on the author's work as a volunteer at Finnish festivals and events for more than ten years. In addition to personal fieldwork diaries, the data consists of stories written by other volunteers, photographs, event and festival materials for volunteers and general audiences, and a variety of traditional and social media materials, including videos. The autoethnographic approach provides an opportunity to explore the way volunteer knowledge plays a role in event co-creation.

The analysis shows how volunteer knowing manifests at different levels. At a macro-level, the study casts light on how the knowing from different life spheres, embodied by the volunteers, comes to operate in event choreography. At a meso-level, the ways in which the social, material and temporal pre-choreographies of events guide volunteer knowing are analysed. At a micro-level, the way knowing builds as kinaesthetic and affective practice is shown. The theoretical contribution of this study is threefold, and it extends to different fields of study. First, through exploring the character of volunteer, the study contributes to marketing research and furthers the understanding of the relationship between production and consumption in the co-creation discussion. The second contribution lies in event management studies, in constructing volunteer knowledge as an active phenomenon built longitudinally through different experiences. The third contribution is made to event co-creation discussions, by constructing volunteers as an active party in event co-creation. The managerial implications of the study cast light on the power structures, materialities and affectivity guiding volunteer knowing.