Sámi Shamanism, Cosmology and Art as Systems of Embedded Knowledge
Joy, Francis (2018)
---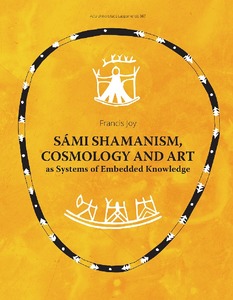 Lapin yliopisto
2018
ISBN:978-952-337-059-3
Acta electronica Universitatis Lapponiensis
openAccess
Julkaisun pysyvä osoite on
https://urn.fi/URN:ISBN:978-952-337-059-3
Tiivistelmä
Scientific research into Sámi shamanism and cosmology over the past several decades has brought forth an intricate body of knowledge, insights and understanding concerning the religious and cultural practice of Europe's indigenous people from Sápmi, which is rooted in a sacrificial tradition that transverses back into prehistory. The remnants of this tradition are evident through various art forms, depicted as systems of embedded traditional knowledge by the Sámi noaidi or shaman, who is known as a tradition bearer. The noaidi's art, which is best known from the divination drums of the seventeenth and eighteenth centuries, collected during the midst of colonialism, has prompted a much broader investigation of both Sámi history, religion and religious practices for the following reasons. More recently, tangible evidence has emerged in historical studies, prompting further research concerning a series of parallels between noaidi art and prehistoric rock art; especially rock paintings in Finland and at the extensive Alta rock art site in Finnmark, northern Norway. Because of the temporal distance between the two sources of art, the subject matter remains ambiguous on account of the historical gaps between the materials. Despite these disputes, questions have come to light as to whether or not the rock art as a knowledge system, has influenced the ways the symbolism and figures have been drawn on the noaidi drums heads, thereby indicating the transmission or oral tradition and culture and thus, outlining a possible survival of an ancient religion and cosmology? Henceforth, prompting a series of questions in relation to the cultural heritage of rock art against the present cultural contexts, which suggests ownership by the nation states of Finland, Sweden and Norway.

With regard to the study of noaidi drums, their artistic content and the transmission of traditional knowledge and culture, new forms of drums are emerging throughout northern Finland, Sweden, Norway and the Kola Peninsula in south-west Russia. Some of these are made inside the Sápmi areas, whilst others are made in former Sápmi localities. It must likewise be noted, how certain drums have been made by noaidi and others by artists. The decoration of such instruments by Sámi and non-Sámi persons, clearly shows how the various contexts of the landscapes painted on the drumheads, has been influenced by noaidi drum art from the seventeenth and eighteenth centuries from Sápmi; and in certain cases by prehistoric rock art. This analysis demonstrates in what ways both the decoration of new types of drums can be seen as a method for the creation of embedded knowledge systems, which is a particular body of knowledge constructed in relation to cultural memory, tradition and identity.

The methodological approach used in order to attain the results of the investigation have been predominantly undertaken through a combination of mixed methods, drawing primarily on comparative, descriptive, phenomenological and holistic analysis of the cosmological landscapes on noaidi drumheads and new types of drums and through visits to prehistoric rock art sites in Finland and Finnmark, north Norway. Furthermore, the study of photographic materials and illustrations of drums and rock paintings, as well as a series of interviews with Sámi noaidi's, artists and drum makers in Finnish, Swedish and Norwegian Sápmi.

The results of the analysis have in fact demonstrated how there are direct correlations in terms of relationships between prehistorical rock art and noaidi drum landscapes, which can be linked with an ancient cosmology and shamanistic tradition. Thereby, indicating a continuity of culture and thus challenging the established views concerning how for example, that the prehistoric rock paintings in Finland might not be 'Finnish', as contextualized within various academic discourses. In turn, a critical view of some of the biased ways rock art research has taken place in Finland is also addressed in the dissertation with regard to the consequences of such claims.

The study of new types of drums made by Sámi persons and their subsequent decoration has provided a number of new and important insights and case studies regarding how the transmission of culture and identity making takes place through art. This is in direct opposition to what some representative of the Lutheran Church have had to say in the past with regard to how shamanism in Sápmi does not exist anymore.

The analysis conducted into new types of drums and their painted landscapes by both Sámi and non-Sámi persons has also revealed how Sámi shamanism and cosmology from the seventeenth and eighteenth centuries continues to influence artists in their works and some of the various contexts these appear, especially in relation to the tourist industry. However, due to issues concerning Sámi cultural heritage, and given the fact there have been little or no scientific studies undertaken on the production of new types of drums made by non-Sámi persons, who reuse Sámi symbolism from the noaidi drums, the decoration of such instruments raise further discussions concerning the cultural context of the material in relation to representation and identity and what the consequences of these are.