The (dis)organized sleeping body : transgressing boundaries
Salmela, Tarja (2018)
---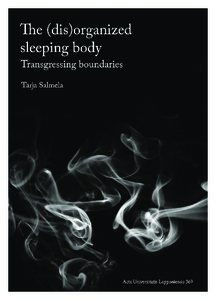 Lapin yliopisto
2018
ISBN:978-952-337-070-8
Acta electronica Universitatis Lapponiensis
openAccess
Julkaisun pysyvä osoite on
https://urn.fi/URN:ISBN:978-952-337-070-8
Tiivistelmä
This dissertation investigates the (dis)organized sleeping body in practices of organizing and more widely in Western society. Evolving into a multi-disciplinary research project that draws from organization studies, tourism studies, psychoanalysis and socio-cultural studies on sleep, it introduces the conflicting role of sleep and dreaming and suggests that they hold uncanny force. This force allows a widening of the space of human subjectivity in organizations through a recognition of its unfolding in borderline experiences. Sleep and dreaming break the illusion of a coherent and manageable organization and the type of organizational subjectivity that we are consciously able to think of.

This dissertation introduces a triad consisting of three supplementary and entangling viewpoints on sleep and dreaming in organizations, approached through an intimate and affective auto-ethnographic research process of five years. The triad of three supplementary viewpoints consists of the recognition of: (i) the deep mental processes of the human psyche; (ii) the corporeal state of sleeping as a site of withdrawal and; (iii) the societal, political and economic practices around sleep and dreaming. Via this triad, this dissertation avoids granting ontological priority to either practice-oriented, phenomenological or psychoanalytical rendering of sleep and dreaming, valuing a transgression of boundaries. Because the triad developed in an undeliberated manner, it also works as a manifestation of an affective research process, which is spontaneous, disrupted and disruptive.

This dissertation has several contributions. First, it contributes to organizational studies recognizing the value of psychoanalysis to explore organizations and organizing with its focus on sleep and dreaming. It points to the uncanny force of sleep and dreaming to disrupt organizational fulcrums by providing a path into another reality escaping symbolic constructions and conscious comprehension. This understanding connects this dissertation further to research of the unexplainable, affective, and irrational side of organizations, and the fantasy of organization. Second, this dissertation makes an epistemological-methodological contribution by transgressing the borders of conventional knowledge production through highlighting how the uncanny power of sleep and dreaming can open up new epistemological paths for organizational scholarship. It introduces the potential of auto-ethnography as a powerful method to address repressed forms of organizational subjectivity. Furthermore, it emphasizes how the access to intimate experiences gains depth through a generosity towards the experience of the other, valuing the importance of collaborative auto-ethnography and recognizing its ethico-political potential.

Thirdly, with the help of the border-transgressing triad, this dissertation contributes to existing socio-cultural research on sleep and connects its heritage further to organizational studies, establishing a firmer ground for using its potential to investigate processes of organizing. Finally, the dissertation aims to take practice-based studies of organizations further by questioning any ontologization of practice, enabling a type of access to the study of organizing that embraces difference and plurality. The dissertation is divided into two parts. Part I discusses the theoretical and methodological premises, empirical contexts and contributions of this study. Part II includes three articles published in academic publications.