Saamelaisen varhaiskasvatuksen toteutus Suomessa
Laiti, Marikaisa (2018)
---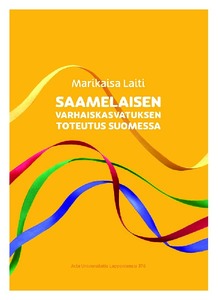 Lapin yliopisto
2018
ISBN:978-952-337-098-2
Acta electronica Universitatis Lapponiensis
openAccess
Julkaisun pysyvä osoite on
https://urn.fi/URN:ISBN:978-952-337-098-2
Tiivistelmä
Tämän tutkimuksen keskiössä on saamelainen varhaiskasvatus. Sillä viitataan saamenkieliseen varhaiskasvatukseen, jolla tuetaan saamelaislasten kielen kehitystä ja oppimista, kasvamista saamelaiseen kulttuuriin sekä saamelaisen identiteetin vahvistumista. Saamelaista varhaiskasvatusta järjestetään inarin-, koltan- ja pohjoissaamen kielillä päiväkoti- ja perhepäivähoitomuodossa. Osa toiminnasta toteutetaan käyttäen kielipesämenetelmää.
Saamelaisilla alkuperäiskansana on perustuslaillinen oikeus ylläpitää ja kehittää omaa kulttuuriaan ja kieltään. Lisäksi varhaiskasvatuslaki velvoittaa kunnat järjestämään saamelaislapsille varhaiskasvatusta heidän äidinkielenään olevalla saamen kielellä kaikkialla Suomessa. Saamelainen varhaiskasvatus on tärkeä alle kouluikäisten saamelaislasten kielellisen ja kulttuurisen kehityksen tuki.
Kasvatuksen tehtävä on sosiaalistaa lapset ympäröivän yhteiskunnan jäseniksi. Alkuperäiskansan kasvatuksella on tämän lisäksi omaan kulttuuriin ja kieleen kasvattamisen tehtävä, mitä kutsutaan enkulturaatioksi. Tutkimuksessa tarkasteltiin saamelaisen varhaiskasvatuksen toteuttamista toiminnalle asetettavien tavoitteiden sekä suunnittelun,
toteutuksen ja arvioinnin näkökulmista.
Teoreettiselta taustaltaan tutkimus nojasi ekokulttuuriseen teoriaan. Se tarjosi mahdollisuuden tarkastella paikallisen toiminnan ja laajemman kontekstin välistä suhdetta. Saamelaisen varhaiskasvatuksen toteutus tapahtuu osana laajempaa kulttuurista kokonaisuutta, minkä merkitys on nähtävissä arkisissa valinnoissa ja ratkaisuissa eli toiminnan toteuttamisen tavoissa.
Tutkimuksen aineistona toimivat saamelaisessa varhaiskasvatuksessa työskentelevien varhaiskasvattajien kertomukset saamelaisen varhaiskasvatuksen toteutuksesta. Metodologisesti tutkimus perustui sosio-konstruktivismiin, joka liittää yksittäisen toimijan osaksi laajempaa yhteisöä. Aineisto hankittiin käyttäen narratiivista otetta. Se tuotettiin haastattelemalla 23 saamenkielisissä varhaiskasvatuksen ryhmissä työskentelevää henkilöä, joita tässä kutsutaan varhaiskasvattajiksi. He työskentelevät taajamissa, kylissä ja kaupungeissa eri puolilla Suomea ja edustavat kaikkia saamen kieliä. Haastatteluaineisto analysoitiin sisällöllisesti sekä narratiivien että narratiivisen analyysin avulla.
Tutkimustuloksina esitellään saamelaiselle varhaiskasvatukselle tyypillisiä arjen toteutuksen tapoja ja sisältöjä. Ne liittyivät erityisesti luontosuhteen, kulttuurin ja kielen kehittämiseen ja ylläpitämiseen. Lapsille tarjottiin erilaisia mahdollisuuksia tehdä ja kokeilla itse saamelaiseen kulttuuriin kuuluvia elementtejä, kuten esimerkiksi saamelaisia käsitöitä, tulen käsittelyä, kalastusta ja marjastusta. Tutkimus osoitti, että arjessa seurattiin tai jäljiteltiin kulttuuriin kuuluvaa toimintaa silloinkin, kun lasten osallistuminen autenttiseen toimintaan ei ollut mahdollista. Tutkimus toi erityisesti esiin toiminnan sopeuttavan luonteen: saamelaista kulttuuria ja kieltä toteutettiin paikalliseen ekologiaan sopivalla, kulttuurisesti kestävällä tavalla.
Tutkimuksessa kävi ilmi arjen toteutuksen jännite valtakulttuuriin pohjautuvien rutiinien, kuten päivärytmin, vanhempainiltojen, varhaiskasvatuskeskustelujen ja kulttuuriin sopeuttavien käytänteiden välillä. Varhaiskasvattajat kuvasivat toteutuksen kahtalaiseksi, toisaalta arjessa olivat jatkuvasti läsnä kysymykset saamelaiseen kulttuuriin enkulturoimisen ja toisaalta valtakulttuuriin sosiaalistamisen välillä.
Narratiivisessa analyysissa muodostui neljä rutiinien sopeuttamisen ja enkulturaation toteuttamisen ulottuvuuksista rakentuvaa saamelaista varhaiskasvatusta kuvaavaa tyyppikertomusta: Kukoistava, aidosti saamelainen varhaiskasvatus, Valtakulttuuria myötäilevä, joustava varhaiskasvatus, Valtakulttuurisiin rutiineihin sidottu varhaiskasvatus ja Saamelaisuuteen perustuva, perinteinen varhaiskasvatus.
Tulosten perusteella saamelainen varhaiskasvatus toteutuu arjen toiminnan tasolla, perustuu saamelaisiin lähtökohtiin sekä pyrkii saamen kielten ja kulttuurien elpymiseen, säilymiseen ja kehitykseen. Tutkimus esittelee saamelaisen varhaiskasvatuksen toteuttamisen muotoja ja avaa keskustelua sen tärkeästä roolista saamelaislasten kasvatuksessa. Se tarjoaa kattavasti tietoa saamelaisen varhaiskasvatuksen toteutuksesta varhaiskasvattajien näkökulmasta. Tutkimuksen tuloksia voidaan hyödyntää varhaiskasvatuksen käytännön toteuttamisen apuna sekä saamelaisen varhaiskasvatuksen johtamisessa, päätöksenteossa ja normiohjauksen kehittämisessä. Tutkimuksessa saatu tieto on käyttökelpoista myös varhaiskasvatuksen perusopinnoissa ja henkilöstön jatko- ja täydennyskoulutuksessa.
Taan tutkâmuš kuávdáást lii sämmilâš arâšoddâdem. Tain čujottuvvoo sämikielâlii arâšoddâdmân, moin tuárjoo sämipárnái kielâ ovdánem já oppâm, šoddâm sämmilii kulttuurân sehe sämmilii identiteet nanosmem. Sämmilâš arâšoddâdem uárnejuvvoo anarâš-, nuorttâlâš- já orjâlâškielân peivikiäju já peerâpeivitipšo häämist. Uási tooimâst olášuttoo kielâpiervâlvuovvijn.
Sämmilijn algâalmugin lii vuáđulavâlâš vuoigâdvuotâ paijeentoollâđ já ovdediđ kulttuuris já kielâs. Lasseen arâšoddâdemlaahâ kenigit kieldâid orniđ sämipárnáid arâšoddâdem sii eenikiellân orroo sämikielân jyehi saajeest Suomâst. Sämmilâš arâšoddâdem lii tehálâš toorjâ vuálá škovlâahasij sämipárnái kielâlii já kulttuurlii ovdánmân.
Šoddâdem pargon lii šoddâdiđ párnáid pirâstittee ohtsâškode sosiaallâš jesânin. Algâaalmug šoddâdmist lii taan lasseen jieijâs kulttuurân já kielân šoddâdem pargo, mii kočoduvvoo enkulturaation. Tutkâmušâst tarkkui sämmilii arâšoddâdem olášuttem tooimân asâttum uulmij sehe vuávám já árvuštâllâm uáinuin.
Teoreetlii tuáváást tutkâmuš vuáđudui ekokulttuurlii teorian. Tot adelij máhđulâšvuođâ tarkkuđ páihálii tooimâ já vijđásub ohtâvuođâ koskâsii koskâvuođâ. Sämmilii arâšoddâdem olášuttem tábáhtuvá uássin vijđásub kulttuurlii olesvuođâ, mon merhâšume lii uáinimnáál argâpeeivi valjiimijn já čuávdusijn ađai tooimâ olášuttem vuovijn.
Tutkâmuš amnâstâhhân lijjii sämmilii arâšoddâdmist pargee arâšoddâdeijei muštâlusah sämmilii arâšoddâdem olášutmist. Metodologisâš tutkâmuš vuáđudui sosio-konstruktivismân, mii labda ovtâskâs tuáimee uássin vijđásub siärváduv. Amnâstâh hahhui narratiivlii vyevi keevtin. Tot pyevtittui nuuvt, ete sahhiittâllojii 23 olmožid, kiäh pargeh sämikielâlii arâšoddâdmist já kiäh kočodeh täst arâšoddâdeijen.
Sij pargeh čuákkipaaihijn, siijdâin já kaavpugijn pirrâ Suomâ já
ovdâsteh puoh sämikielâid. Sahhiittâllâmamnâstâh analysistui siskáldâslávt sehe narratiivij já narratiivlii analyys vievâst.
Tutkâmpuáđusin oovdânpuáhtojeh sämmilii arâšoddâdmân táváliih aargâ olášuttem vyevih já siskáldâsah. Toh lohtâsii eromâšávt luándukoskâvuođâ, kulttuur já kielâ oovdedmân já paijeentolâmân. Párnáid adelii sierâlágán máhđulâšvuođâid rähtiđ já keččâliđ jieš sämmilii kulttuurân kullee elementijd, tego ovdâmerkkân sämituojijd, tuulâ kieđâvuššâm, kuálástem já muorjim. Tutkâmuš čaaitij, ete aargâst čuovvuu já ađđiistâllii kulttuurân kullee tooimâid talle-uv, ko paarnij uásálistem tuođâlii tooimân ij lamaš máhđulâš. Tutkâmuš puovtij eromâšávt oovdân tooimâ vuáháduttee luándu: sämmilâš kulttuur já kielâ olášuttui vuovijn, mii heivee páihálii ekologian já lii kulttuurlávt killeel.
Tutkâmušâst tiettui aargâ olášuttem keeldâ váldukulttuurân vuáđuduvvee rutiinij, tego peiviriitmâ, vanhimijehidij, arâšoddâdemsavâstâlmij já kulttuurân vuáháduttee vuovij kooskâst. Arâšoddâdeijeeh valdâlii olášuttem kyevtlágánin, nube tááhust aargâst lijjii eivi mieldi koččâmušah sämmilii kulttuurân šoddâm já nube tááhust váldukulttuur sosiaallii siärvádâhân vuáháduttem kooskâst.
Narratiivlii analyysist šoodâi nelji rutiinij vuáháduttem já enkulturaatio olášuttem ooláádmudoin šaddee tijppâmuštâlus, moh valdâleh sämmilii arâšoddâdem: Eellimvuáimálâš, puigâ sämmilâš arâšoddâdem, Váldukulttuur miäldásâš, njyebžilis arâšoddâdem, Váldukulttuurláid rutiináid čonnum arâšoddâdem já Sämmilâšvuotân vuáđuduvvee, ärbivuáválâš arâšoddâdem.
Puátusij vuáđuld sämmilâš arâšoddâdem olášuvá aargâ tooimâ tääsist, vuáđuduvá sämmiláid vuolgâsoojijd sehe viggá sämikielâi já -kulttuurij iälááskmân, siäilumân já ovdánmân.
Tutkâmuš oovdânpuáhtá sämmilii arâšoddâdem olášuttem haamijd já lekkâs savâstâllâm ton tehálii roolist sämipárnái šoddâdmist. Tot fáálá luávdee tiäđu sämmilii arâšoddâdem olášutmist arâšoddâdeijei uáinust. Tutkâmuš puátusijd puáhtá anneeđ ävkkin arâšoddâdem keevâtlii olášutmist sehe sämmilii arâšoddâdem joođeetmist, miärádâstohâmist já normâstivrim oovdedmist. Tutkâmušâst finnejum tiätu lii ávhálâš meid arâšoddâdem vuáđu-uápuin já pargei jotkâ- já tievâsmittemškovliimist.
Tän tu´tǩǩummuž kuvddlõõzzâst lij sää´m ouddpeâmm. Tõin
čuä´jted sää´mǩiõllsaž ouddpiõmmu, koin tuärjjeet sää´mpäärnai ǩiõl ouddnummuž da mättjummuž, šõddâm sää´mkulttuu´re di sää´midentitee´tt ravsmummuž. Sää´m ouddpeâmm jä´rjste aanar-, nuõrtt- da tâ´vvsää´mǩiõlin pei´vvhåiddan da piârpei´vvhåiddan. Vue´zz tuåimmjummšest jä´rjste ââ´nee´l ǩiõllpie´ssmetood.
Sä´mmlain alggmeeran lij vuâđđlääg_g_laž vuõiggâdvuõtt tuõ´ll'jed da ooudeed kulttuurâs da ǩiõlâs. Lââ´ssen ouddpeâmmlää´ǩǩ õõlg_at koo´ddid jä´rjsted sää´mpäärnaid ouddpeâmm sij jie´nnǩiõllân le´ddi sää´mǩiõlin juõ´ǩǩå´rnn Lää´ddjânnmest. Sää´m ouddpeâmm lij vääžnai vue´ll škooulâkksaž sää´mpäärnai ǩiõl'laž da kulttuursaž ouddnummuž tuärjj.
Peâmm mie´rren lij sosiaal'lâ´tted päärnaid pirrõõtti õhttsažkåå´dd vuäzzli´žžen. Alggmeer peâmm'mõõžžâst lij tän lââ´ssen jiijjâs kulttuu´re da ǩiõ´lle peâmmam tuejj, mõõn kååččat enkulturaation. Tu´tǩǩummšest ta´rǩstõ´lleš sää´m ouddpeâmm jä´rjstummuž tuåimmjummša pijjum täävtõõzzi di plaanummuž, jä´rjstummuž da ärvvtõõllmõõžž vuei´nnemkuu´lmin.
Teoreettlaž tuâg_g_õõzz peä´lnn tu´tǩǩummuš nuäjjõõđi ekokulttuursaž teoriaa´je. Tõt ta´rjjii vuei´ttemvuõđ ta´rǩstõõllâd pääiklaž tuåimmjummuž da veiddsab kontee´kst kõskksaž kõskkvuõđ. Sää´m ouddpeâmm jä´rjstummuš šâdd vue´ssen veiddsab kulttuursaž obbvuõđ, mõõn miârktõs lij vuei´nnemnalla arggpeei´v va´lljummšin da čåuddmõõžžin le´be tuåimmjummuž jä´rjstummuž naa´lin.
Tu´tǩǩummuš aunnstõssân lie mainnâz sää´m ouddpeâmm jä´rjstummuž pirr, koid sää´m ouddpeâmmtuâjjla mušttle. Metodolooglânji tu´tǩǩummuš vuâđđõõvi sosio-konstruktivi´smme, kåå´tt âhtt õõut tuåimmjeei vue´ssen veiddsab õutstõõzz. Aunnstõõzz ha´ŋǩǩeeš ââ´nee´l narratiivlaž nää´l. Tõn puu´t'teš mainstââ´ttee´l 23 oummu, kook lie tuejast sää´mǩiõllsaž ouddpeâmmjooukin da koid tä´st kååččat ouddpeâmmjen. Sij lie tuejast ceerkavsiidin, siidin da gåårdin jee´res å´rnn Lää´ddjânnmest da sij mainste puk Lää´ddjânnmest mainstum sää´mǩiõlid. Mainstâ´ttemaunnstõõzz analysõ´stteš siiskõõzz peä´lnn di narratiivi ko še narratiivlaž analyys vie´ǩǩin.
Tu´tǩǩeempuåđõssân čiõlg_tet sää´m ouddpiõmmu takai aarg_ jä´rjstummuž vuõ´jjid da siiskõõzzid. Tõk kuõ´sǩǩe jeä´rben luâttkõskkvuõđ, kulttuur da ǩiõl ooudâs viikkmõõžž da tuõ´ll'jummuž. Päärnaid ta´rjjeeš jee´resnallšem vuei´ttemvuõđid tuejjeed da ǩiččlõddâd jiijj sää´mkulttuu´re kuulli elemee´ntid, hå´t mâka sää´m ǩiõtt-tuejaid, tool piijjmõõžž, kue´llšeellmõõžž da muõ´rji uussmõõžž. Tu´tǩǩummuš čuä´jti, što aarg_âst seu´rrješ le´be jiu´ǯ ǯ eš kulttuu´re kuulli tuåimid te´l še, ko päärnai vuässõõttâm auteentlaž tuåimmjummša ij leämmaž vuei´tlvaž. Tu´tǩǩummuš puu´ti jeä´rben ou´dde tuåimmjummuž suåvteei luând: sää´mkulttuur da ǩiõl ǩiõtt'tõ´lleš pääiklaž ekologiaa´je suåppi, kulttuurlânji ǩeâll'jeei nää´l mie´ldd.
Tu´tǩǩummšest pue´đi ou´dde aarg_ jä´rjstummuž cââggas vä´lddkulttuu´re vuâđđõõvvi rutiini, mâ´te pei´vvryytm, puärrsijeä´ǩǩääi, ouddpeâmmsag_stõõllmõõžži da kulttuu´re suåvteei mõõntõõllmõõžži kõõskâst. Ouddpeâmmai kovvee jä´rjstummuž kuei´tnallšee´men, nuu´bb peä´lnn aarg_âst le´jje ǩee´jjmie´ldd ääi´j mie´ldd kõõččmõõžž sää´mkulttuu´re enkulturâsttmõõžž da nuu´bb peä´lnn vä´lddkulttuu´re sosiaal'lâttmõõžž kõõskâst.
Narratiivlaž analyysâst šõ´dde nellj rutiini suåvtummuž da enkulturaatio jä´rjstummuž vuälvuõđin šõddi sää´m ouddpeâmm kovveei mallmušttlõõzz: Jie´llemviõkksaž, puu´ttes sää´m ouddpeâmm, Vä´lddkulttuur miõđõ´stti, võõnni ouddpeâmm, Vä´lddkulttuursaž rutiinid čõnnum ouddpeâmm da Sää´mvuõ´tte vuâđđõõvvi, ä´rbbvuõđlaž ouddpeâmm.
Puåđõõzzi vuâđald sää´m ouddpeâmm jä´rjste aarg_ tuåimmjummuž tää´zzest, vuâđđââvv sää´m vue´lǧǧemsõõ´jid di pârgg sää´mǩiõli da kulttuuri jäll'jummša, seillmõ´šše da ouddnummša.
Tu´tǩǩummuš čiõlg_at sää´m ouddpeâmm jä´rjstummuž naa´lid da ää´vad sag_stõõllmõõžž tõn tää´rǩes rool pirr sää´mpäärnai peâmm'mõõžžâst. Tõt ta´rjjad veiddsânji teâđ sää´m ouddpeâmm jä´rjstummšest ouddpeâmmji vuei´nnemkuu´lmest. Tu´tǩǩummuž puåđõõzzid vuei´tet ââ´nned äu´ǩǩen ouddpeâmm âânnlaž jä´rjstummuž veä´ǩǩen di sää´m ouddpeâmm jåå´đtummšest, tu´mmstõktuejast da normmo´hjjummuž oou´dummšest. Tu´tǩǩummšest vuåǯ ǯ um teâtt lij ânn'jõõvvi še ouddpeâmm vuâđđmättjummšin da tuâjjlažkåå´dd juätkk- da tiuddeemškooultõõzzâst.
Dán dutkamuša guovddážis lea sápmelaš árrabajásgeassin. Dat čujuha sámegielat árrabajásgeassimii, mii duvdá sámemánáid giela ovdáneami ja oahppama, šaddama sámekultuvrii sihke sápmelaš identitehta nanosmuvvama. Sápmelaš árrabajásgeassin ordnejuvvo anáraš-, nuortalaš-, ja davvisámegielaiguin beaiveruokto- ja bearašbeaivedikšuma hápmásažžan. Oassi dán doaimmas ollašuhttojuvvo giellabeassevuogi mielde.
Sápmelaččain lea vuođđolága mielde vuoigatvuohta doalahit ja ovddidit iežaset kultuvrra ja giela. Dan lassin láhka árrabajásgeassima birra geatnegahttá gielddaid ordnet sámemánáide árrabajásgeassima dainna sámegielain birra Suoma, mii sin iežaset eatnigiellan lea. Sápmelaš árrabajásgeassin lea dehálaš doarjja vuollel skuvlaahkásaš mánáide sihke gielalaš ahte kultuvrralaš ovdáneami dáfus.
Bajásgeassima ulbmilin lea sosialiseret mánáid servodaga miellahttun. Álgoálbmoga bajásgeassima doaibman lea dán lassin bajásgeassit mánáid iežaset gillii ja kultuvrii, mii gohčoduvvo enkultureremin. Dutkamušas árgabeaivve ollašuhttin geahčaduvvui čuovvovaš vuolggasajiin: juksanmeriid bidjan, plánema, ollašuhttima ja árvvoštallama geahččanguovlluin.
Dutkamuša teorehtalaš duogáža vuođđun lea váldojuvvon ekokultuvrralaš teoriija. Dat buvttii vejolašvuođa geahčadit báikkálaš doaimma ja viidásut konteavstta gaskasaš oktavuođa. Sápmelaš árrabajásgeassima ollašuhttin dáhpáhuvvá oassin viidásut kultuvrralaš oppalašvuođa, man mearkkašupmi lea oaidnimis árgabeaivve válljemiin
ja čovdosiin dahje doaimma ollašuhttima vugiin.
Dutkamuša materiálan leat sápmelaš árrabajásgeassiid muitalusat. Metodologalaččat dutkamuš vuođđuduvai sosio- konstruktivismii, mii laktá ovttaskas bargi oassin viidásut servoša. Materiála čohkkejuvvui narratiivaláš vuogi mielde. Dutkamuša váráš jearahallojedje 23 olbmo, geat barget sámegielat joavkkuin. Sii gohčoduvvojit dán dutkamušas árrabajásgeassin. Sii barget čoahkkebáikkiin, giliin ja gávpogiin birra Suoma ja ovddastit buot sámegielaid. Jearahallanmateriála analyserejuvvui sisdoalu dáfus sihke narratiivaid ahte narratiivalaš analysa vehkiin.
Dutkamušboađusin ovdanbuktojuvvo sápmelaš árrabajásgeassimii mihtilmas árgabeaivve dábit ja sisdoalut. Dat láktasit erenomážit luondduoktavuođa, kultuvrra ja giela ovddideapmái ja bajásdoallamii. Mánáide fállojuvvui earálágan vejolašvuođat ieža dahkat ja iskkadit sápmelaš kultuvrii gullevaš áššiid, dego ovdamearkka dihte duddjoma, dola kohkkema, guolásteami ja murjema. Dutkamuš čujuha, ahte árgabeaivvis mánát besset čuovvut ja áddestallat kultuvrii gullevaš doaimmaid dallege, go mánáid oassálastin duođalaš doibmii ii lean vejolaš. Dutkamuš buvttii ovdan erenomážit doaimma heiveheaddji vuogi: sámekultuvrra ja giella ollašuhttojuvvui báikkálaš ekologiijai heivvolaš, kultuvrralaččat suvdilis vugiin.
Dutkamušas bohte ovdan ruossalasvuođat árgabeaivve ollašuhttima váldokultuvrra rutiinnaid (ovdamearkka dihte beaivválaš áigegeavaheapmi, vánhemiid eahkedat, ságastallat árrabajásgeassimis) ja kultuvrii sajáiduhtti dábiid gaskka. Árrabajásgeassit govvidedje ollašuhttima guovtteláganin, ovtta dáfus árggabeaivvis ledje jámma mielde jearaldagat sámekultuvrii enkulturerema ja nuppe dáfos váldokultuvrii sosialiserema gaskka.
Narratiivalaš analysas hápmašuvve njeallje šládjamuitalusa, mat govvidit sápmelaš árrabajásgeassima. Dat ledje rutiinnaid heiveheami ja enkulturerema ollašuhttima sierra bealit: Ealas, eakti sápmelaš árrabajásgeassin, Váldokultuvrra čuvodeaddji, dávggas árrabajásgeassin, Váldokultuvrra rutiinnaide čadnojuvvon árrabajásgeassin ja Sápmelašvuhtii vuođđuduvvi, árbevirolaš árrabajásgeassin.
Bohtosiid vuođul sápmelaš árrabajásgeassin ollašuvvá árgabeaivve doaimma dásis, vuođđuduvvá sápmelaš vuolggasajiide sihke geahččala olahit sámegielaid ja sámekultuvrraid ealáskahttima, seailuma ja ovdáneami.
Dutkamuš ovdanbuktá sápmelaš árrabajásgeassima ollašuvvama vugiid ja rahpá ságastallama dan dehálaš rollas sámemánáid bajásgeassimis. Dat fállá dieđu das, mo árrabajásgeassit vásihit árrabajásgeassima ollašuvvama. Dutkamuša bohtosiid sáhttá ávkkástallat árrabajásgeassima geavatlaš ollašuhttima veahkkin sihke sápmelaš árrabajásgeassima jođiheami, mearrádusaid dahkama ja norpmastivrema ovddideamis. Dutkamušas fitnašuvvi diehtu lea anolaš maid árrabajásgeassima vuođđooahpuin ja bargoveaga joatkka- ja dievasmahttinskuvlejumis.
Sámi early childhood education (ECE) is at the core of this research. It refers to ECE that aims to secure and strengthen the Sámi language learning and development, growth into the Sámi culture, and adoption of Sámi identity in Sámi children. Sámi ECE is organized in the Inari, Skolt, and North Sámi languages in early education center and family-based care formats. A part of Sámi ECE is also realized by using the language immersion method.
The Sámi as an indigenous people has a legal right to maintain and develop their culture and languages. In addition, the law of early childhood care and education in Finland obliges municipalities to arrange Sámi children care in their own Sámi language everywhere in Finland. Sámi ECE makes an important support for the under-school-age Sámi children's linguistic and cultural development.
The task of education is to socialize children as members of their surrounding society. Furthermore, indigenous education has the task of enculturating children into the indigenous culture and language. This research focused on the Sámi ECE from the perspectives of goals and the planning, implementation, and evaluation of the Sámi ECE.
The theoretical background leaned on the ecocultural theory. It provided an opportunity to analyze the relationship between local agents and the wider context. The Sámi ECE is implemented as a wider cultural entity, which becomes visible in daily choices and solutions, in other words, the means of implementation.
The research data consisted of early childhood educators' narratives of the implementation of Sámi ECE. The research was based on social-constructivism combining the singular agent into wider community. The narrative approach was used for data collection. Altogether, 23 early childhood educators who worked in Sámi ECE were interviewed. They worked in cities and villages across Finland and represented all Sámi languages. The interview data were analyzed with the methods of narrative analysis and analysis of narratives.
The research results evinced typical practices and contents of Sámi ECE. They were specifically related to the development and maintenance of the relationship with nature, culture, and language. Children were provided with various opportunities to do and try elements of Sámi culture such as doing handicrafts, using fire, fishing, and picking berries. The research showed that Sámi ECE followed or imitated cultural activities even when children were not able to experience authentic Sámi activities. The especial adjusting nature of activities was evident: the Sámi culture and language were implemented in ways that were suitable to the local ecology and culturally sustainable.
In addition, the research showed how the tensions between daily practices of Sámi ECE and the routines based on the mainstreaming culture, such as daily rhythm, parent conferences, ECE discussions, and cultural adjustment. Early childhood educators described the implementation as two-dimensional: on the one hand, they had to deal with questions of Sámi enculturation on daily basis and, on the other hand, with questions of socializing children into the mainstreaming culture.
The narrative analysis resulted into four metanarratives about the Sámi ECE in relation to the dimensions of adjustment to routines and realization of enculturation. The metanarratives were Flourishing, genuinely Sámi ECE; Flexible Sámi ECE conforming with the mainstreaming culture; Sámi ECE tied to routines of the mainstreaming culture; and Sámi-based, traditional ECE.
According to the findings, Sámi ECE was realized at the level of everyday implementation, is based on Sámi premises, and aims at revitalization, maintenance, and preservation of the Sámi languages and cultures.
The thesis introduces the forms of implementing Sámi ECE and opens discussion of its important role of Sámi children's upbringing and education. The research provides comprehensive information about Sámi ECE from the early childhood educators' perspective. The findings are usable to planning of daily practices in ECE and the development of the Sámi ECE administration, decision making, and steering. In addition, the research is useful to early childhood education studies and in-service and continuing education of ECE personnel.