Making the voice : exploring design professionalism in visual information structure of news Websites
Zha, Yiyun (2018)
---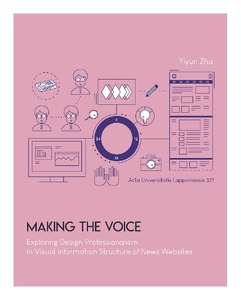 Lapin yliopisto
2018
ISBN:978-952-337-102-6
Acta electronica Universitatis Lapponiensis
Julkaisun pysyvä osoite on
https://urn.fi/URN:ISBN:978-952-337-102-6
Tiivistelmä
The emergence and proliferation of new media have challenged newspapers. Technological developments and changes in people's reading habits regarding the news have led to the growing importance of the online reader experience in an era of increased competition among media companies. Newspaper circulation has been affected, and new ways of connecting with a mass audience in time and space have become necessary. Therefore, the biggest effect of the new media is the demanding requirements for creative workers. This research project seeks to fill this gap by focusing on the communication design innovations of the visual information structures of news websites. To make daily online newspapers possible, editorial processes and creative work are bound to follow highly structured rules, so that the workflow can be continuous and consistent. Thus, the main research question has arisen: "How is visual journalistic professionalism maintained and projected by the visual representation, given the opportunities and challenges posed by media convergence?"

Finland is among the top countries that started online newspapers quite early, yet the implementation of new media techniques that have led to enhanced journalism has been overlooked, especially in Northern Finland. In recent times, there has been increasing concern about sustainability for online publishers in the new media landscape. The challenge, perhaps, is no longer to prove whether readers are passive objects in their engagement with the media but to argue that reader experiences should be improved through new modes of communication on news websites. More attention has been focused on the cultural differences regarding narratives in technological and social moments by explaining the interrelations of pictures, texts, genres, and interpretation.
Using the ethnographic research methodologies of qualitative observation and quantitative analysis, it is possible to monitor trends in the development of newsroom cultures and visual journalists' professional identities.

The research consists of case studies of two Finnish newsrooms, representative of Northern Finland and Southern Finland, regarding the effect of organisational cultures on visual journalists' daily routines and practices. An overview of marketing and journalists through interviews and surveys is also included to deepen our knowledge of the actors and factors that affect visual journalism in the context of organisational cultures. The goals are to create awareness of design professionalism and to promote visualisation in online newspapers.