When we got reindeer, we moved to live to the tundra : The Spoken and Silenced History of the Yamal Nenets
Laptander, Roza (2020)
---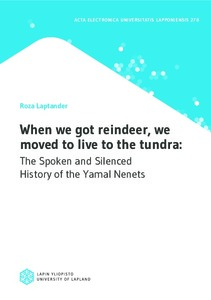 Lapin yliopisto
2020
ISBN:978-952-337-200-9
Acta electronica Universitatis Lapponiensis
Julkaisun pysyvä osoite on
https://urn.fi/URN:ISBN:978-952-337-200-9
Tiivistelmä
This dissertation is about the role of silence and silencing in remembering the Yamal Nenets historical narratives about the past. The Nenets narratives in combination with individual songs tell the history of these nomadic people of the tundra from the end of the 19th century until the present time on the Yamal Peninsula. I argue that Tundra Nenets transmit their historical narratives, traditional knowledge, and personal experiences about the past from one generation to another not only through spoken stories, but also by leaving some things unspoken. Nenets historical stories and narratives retain a system of knowledge and values, which unite several generations.
Silence in combination with spoken words has many important meanings in any story or historical narrative which can have particular social significance and a specific role in everyday life. Although silencing makes words unspoken, at the same time, it endows these unspoken words with a more powerful message, so that silencing can both help to keep and forget memories about the past.
General aspects of oral history theory helped in comparing and giving definitions of the Nenets life stories and narrative terms, which were used in this work. The stories analysed turned out to fall into three types of silence illustrating the roles of responsibility, demands and interests of society, and the political regime of the country.