Gender Roles of Indigenous Women Reindeer Herders in Transition with Particular Reference to the Arctic Siberian Tundra Areas: Challenges of Social (In)Security
Bogdanova, Elena; Filant, Konstantin; Praskovia, Filant; Andronov, Sergei; Lobanov, Andrei (2021)
---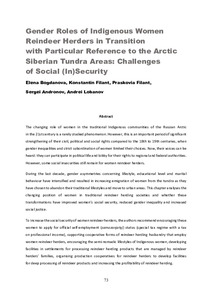 Bogdanova, Elena
Filant, Konstantin
Praskovia, Filant
Andronov, Sergei
Lobanov, Andrei
Lapin yliopisto
2021
Juridica Lapponica
Julkaisun pysyvä osoite on
https://urn.fi/URN:NBN:fi-fe2021041310268
Tiivistelmä
The changing role of women in the traditional Indigenous communities of the Russian Arctic in the 21st century is a rarely studied phenomenon. However, this is an important period of significant strengthening of their civil, political and social rights compared to the 18th to 19th centuries, when gender inequalities and strict subordination of women limited their choices. Now, their voices can be heard: they can participate in political life and lobby for their rights to regional and federal authorities. However, some social insecurities still remain for women reindeer herders.
During the last decade, gender asymmetries concerning lifestyle, educational level and marital behaviour have intensified and resulted in increasing emigration of women from the tundra as they have chosen to abandon their traditional lifestyles and move to urban areas. This chapter analyses the changing position of women in traditional reindeer herding societies and whether these transformations have improved women's social security, reduced gender inequality and increased social justice.
To increase the social security of women reindeer herders, the authors recommend encouraging these women to apply for official self-employment (samozanjatyj) status (special tax regime with a tax on professional income), supporting cooperative forms of reindeer herding husbandry that employ women reindeer herders, encouraging the semi-nomadic lifestyles of Indigenous women, developing facilities in settlements for processing reindeer herding products that are managed by reindeer herders' families, organising production cooperatives for reindeer herders to develop facilities for deep processing of reindeer products and increasing the profitability of reindeer herding.