Written Fashion Gurli Rosenbröijer's Fashion Newsletters from Paris 1949–1957
Koskennurmi-Sivonen, Ritva (2021)
---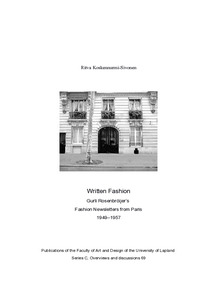 Koskennurmi-Sivonen, Ritva
Lapin yliopisto
2021
ISBN:978-952-337-269-6
Publications of the Faculty of Art and Design of the University of Lapland Series C, Overviews and discussions
Julkaisun pysyvä osoite on
https://urn.fi/URN:ISBN:978-952-337-269-6
Tiivistelmä
The fashion newsletters by the Finnish journalist Gurli Rosenbröijer were analyzed in the context of the concept of "written fashion" and the history of "the golden age of couture", the heyday of Paris haute couture fashion.

Rosenbröijer was a Finnish citizen who lived in Paris for decades and was thoroughly acculturated to French society and values. She was a member of an association of accredited journalists who followed French haute couture in particular and fashion in general, as well as related fields of industry such as materials and accessories.

She introduced her Nordic readers to the relationship between Paris fashion houses and journalism. She described collections and drew conclusions of the proposed styles of a fashion season. Rosenbröijer engaged her readers with the concept of haute couture, illuminating its core features as well as explaining its differences from unlisted couture, "hors concours." At least initially, critical of confection, ie. factory-made anonymous clothing, Rosenbröijer came to witness its rise in quality and volume, as well as the emergence prêt-à-porter, ready-made clothes of high quality.

The work and role of mannequins in the fashion business was of a special interest to Rosenbröijer. In her view, it was vitally important to live permanently in Paris in order to understand the birth and slow change of fashion, which was based on the interplay between the Parisiennes and couturiers. Her conception of fashion was very different from that of fashion as a short cycle or fashion as one look at a time.

An ardent Francophile, Rosenbröijer devoted ample space to praising the excellence of French culture and elegance as one of its prime results.

The central idea and motive of these newsletters was to mediate the Paris atmosphere to Finnish and Swedish fashion creators. As a gifted writer, Rosenbröijer captured the atmosphere in an optimal way.
Kokoelmat