Making Sense of Design Space: Design Perspectives on the Idea of Organization and Strategizing
Pääkkönen, Tarja (2021)
---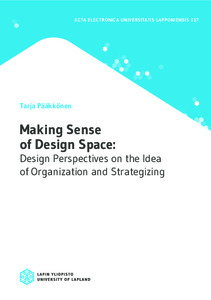 Lapin yliopisto
2021
ISBN:978-952-337-273-3
Acta electronica Universitatis Lapponiensis
Julkaisun pysyvä osoite on
https://urn.fi/URN:ISBN:978-952-337-273-3
Tiivistelmä
This dissertation bridges areas of design research with organization and management studies with the aim of increasing interdisciplinary understanding of design. An increasing number of designers in industrial settings, besides designing physical objects, are involved in shaping services and experiences by utilizing evolving information technology. While design approaches have gained increased visibility in managerial realms the position of design managers participating in strategizing and organizational action calls for proliferation of paradigms and reflexivity on frames guiding such action. This research aims at enriching both design theories and areas of research in organization and management studies by bridging perspectives emerging from these fields. It does so by asking whether and how design theories and design managers might influence the idea of organization and its strategic direction.

The positivist understanding of an organization is juxtaposed with philosophical perspectives from the traditions of social constructionism, hermeneutics and reflexivity. Qualitative research approaches are combined with sensemaking and design approaches. The research is positioned at the intersection of managerial traditions and frames and general values of design often concerned with human wellbeing. However, instead of embedding design into organizational traditions and structures, the research moves from this pre-understanding towards suggesting and making sense of an evolving design space as a social and linguistic, but also material and embodied phenomenon in which strategizing, sensemaking and design are in a continuous flow of becoming.

Through the three sub-studies, the research evolves towards broader understanding of designing in organizational industrial settings. Design managers´ context is addressed by disclosing possible frames while combining micro and macro levels of organizational thinking from partly critical perspectives. The longitudinal research covers interviews among experienced designers in middle or senior management positions working in Silicon Valley between the years 2013 and 2016. Most participants represented large technology-driven multinationals and design consultancies.

The first sub-study utilized theory elaboration by combining perspectives on sensemaking, strategizing and design into a preliminary theoretical model. The second sub-study focused on design managers´ language through identification of normalising and denormalising language use. The third sub-study addressed the information technology field as an example to discuss the need for ethics and attention to potential harmful consequences in the domain of design and strategizing for more awareness and responsible future outcomes. Reaching beyond the firm-centric and use-stage specific questions, designers might display more intense participation in strategic decision making concerning pre-use and post-use stage consequences for users, and additionally, for third-parties, locally, globally and digitally.

Designers may act as supporters and challengers of evolving strategies while mediating between frame adoption and frame extension. At times, historically developed strategic frames may become reproduced. However, denormalising language used by design managers with material–linguistic strengths could trigger critical reflection on strategic assumptions.

The dissertation proposed a way of understanding organizational strategizing differently through the suggestion to rather speak about design space in which strategic action and sensemaking are situated. The design space understood as a continuously evolving social construction in becoming is a site of sensemaking inviting actors from diverse fields into an interdisciplinary dialogue. By questioning the obvious, designers as managers may contribute to increased responsibility, transparency, sustainability and ethics in decision making concerning the rapidly evolving industrial and digitalizing contexts. Future designers as hybrid co-strategists may gain more power through their managerial roles making awareness and critical discussion on frames and taken-for-granted beliefs across occupational domains important. Finally, a suggestion to reframe the concept of meaning innovation was made.

The research makes a design contribution to creative and critical streams of organization and management studies, as well as sensemaking studies and suggests some interdisciplinary issues for further research bridging these fields.