The Communication of Service Design – How do Service Designers Communicate Service Design to (Project) Stakeholders?
Zsifkovits, Danielle (2022)
---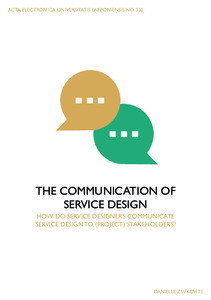 Lapin yliopisto
2022
ISBN:978-952-337-301-3
Acta electronica Universitatis Lapponiensis
Julkaisun pysyvä osoite on
https://urn.fi/URN:ISBN:978-952-337-301-3
Tiivistelmä
Service design is a relatively new discipline (when compared to graphic design) that draws on the methods and concepts of various other disciplines, inside and outside of the design realm, to achieve innovative solutions that cater to all stakeholders alike (business, user, staff, customer, delivery, etc.). The discipline's practitioners are known to be skillful and resourceful in retrieving qualitative data from service and project stakeholders and pushing them towards collaborations by applying methods and tools that support the stakeholders in bridging silo-thinking and language barriers; a cross-disciplinary language is established, and communication is used as a tool. However, service designers were found to continuously make negative or exhausting communication experiences when explaining their jobs and discipline to other people and when trying to acquire jobs or projects by selling the discipline to project stakeholders in decision-making positions.

Therefore, this study first aimed to investigate and create an understanding of the currently applied communication by service designers (including processes, hardships, and obstacles), especially at the beginning of projects (Research Questions 1–3), to understand the causes of service designers' negative communication experiences. In addition, this study aimed to update this communication in a fit-for-purpose manner that enables service designers to better steer the communication of their discipline to project stakeholders and hence achieve more desirable communication experiences and outcomes (Research Question 4). To meet these aims, service designers' currently applied communication process was reconstructed, pitfalls were uncovered, and an improved communication process in terms of a "how-to" roadmap (that caters to the practical nature of service designers) was established. Furthermore, this research aimed to explore the topic holistically, although the outcomes were directed towards service designers and their enablement.

The needed data to create the previously mentioned study outcomes were derived from in-depth interviews with service designers, secondary literature, and communications in which the researcher also acted as a service designer (testing with a managing director, lecturing students of "UART1105" on service design, and journaling about further made communication experiences). The research participants of this study came from diverse geographical, experiential, educational, and professional backgrounds, meaning that the formed understandings and outputs focus on service design and its practitioners worldwide. The collection focus for this research lies with the experiences the research participants, specifically service designers, had made and the applied communication process. Hence, this research is of a qualitative nature and focuses on practicing service design, phenomenography, and action research.

Through this study, the understanding was formed that the communication of service design, early on in projects or the setup of projects, is a crucial information sharing and expectation management activity that heavily impacts the trajectory and success of projects and the perception of service design. However, the reconstructed currently applied communication process was found to be an unaligned and vague structure of suggestions, doings, and thoughts-to-look-out-for that does not support service designers in adequately introducing and selling their discipline to project stakeholders, correcting project stakeholders' misconceptions or assumptions about the discipline, or catering to project stakeholders' communication expectations. Hence, this dissertation dives deep into the "how" (process and activities) and the "what" (content) of the communication of service design to improve and meet the needs, expectations, and requirements of all communication parties to ultimately enable service designers in strengthening the discipline's involvement in projects and the commitment from project stakeholders.