The Impact of Transformative Learning on the Development of Young Peoples' Intercultural Competencies
Stewart, Tomm (2022)
---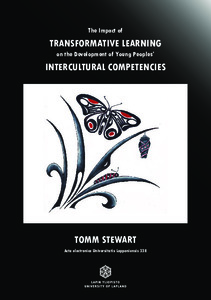 Lapin yliopisto
2022
ISBN:978-952-337-313-6
Acta electronica Universitatis Lapponiensis
Julkaisun pysyvä osoite on
https://urn.fi/URN:ISBN:978-952-337-313-6
Tiivistelmä
This doctoral dissertation is a mixed-methods research study designed to investigate the effects of intercultural experiences and transformative learning opportunities on the development of intercultural competencies in young people between 18 and 23 years of age. The intervention was participation in language and culture seminars. The intervention group (N=47) actively participated in language and culture seminars at Shuya University, Russia, from spring 2015 through fall of 2019. The comparison group (N=51) was not involved in the intervention and acted as the control. The periods of data collection were spring of 2015 through winter of 2020.

The descriptive study involved qualitative ethnographic data as an inductive process of organizing data from descriptive narration and analysis into themes that emerged from the data. The quantitative aspect was the use of a pretest and posttest for both the intervention and comparison groups. Inferential statistical analyses were used to determine effects of the intervention empirically. The subject population was student informants at Shuya Pedagogical University in provincial Russia, a unique cultural setting for the study. Participation in the seminars acted as the independent variable in the study with results on the construct-specific, posttest self-report questionnaire, as the dependent variable. Descriptive statistics provided the demographic profiles of the samples. Repeated measures analysis of variance (ANOVA) and paired samples t-tests were used for comparison of mean scores and determination of statistical significance. The repeated measures were the pretest and posttest.

Data analysis revealed statistically significant differences in mean scores for within and between-group comparisons. There was a positive main effect indicating increases in positive perceptions of others for the intervention group members themselves and compared to the comparison group as measured by a Cultural Assessment Survey Questionnaire (CASQ). Qualitative data was crucial, corroborated the qualitative findings, and vice-versa . The reader will notice that the terms informants, intervention group, participants, and students are sometimes used interchangeably depending on the intention of a particular statement or situation.