Raising awareness of frontotemporal dementia among Nigerian immigrant communities in the UK through storytelling : an autoethnography thesis using an art-based research approach
Alao, Abimbola Gbemi (2023)
---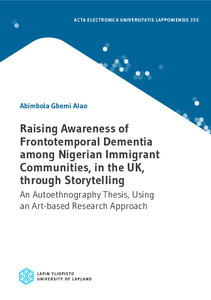 Lapin yliopisto
2023
ISBN:978-952-337-362-4
Acta electronica Universitatis Lapponiensis
Julkaisun pysyvä osoite on
https://urn.fi/URN:ISBN:978-952-337-362-4
Tiivistelmä
Even though medical research on dementia is wide and has long roots internationally, the awareness of the condition varies among different populations. People in ethnic minority communities, for example, may view dementia issues through a traditional or cultural lens. In these communities, diagnosis is more likely to occur at an advanced stage of the disease, and there is a low take-up of mainstream dementia services.

This study explores new ways of raising awareness of dementia in such groups, in this case, among Nigerian immigrants in the UK. This group is understudied, even though they represent the largest number of people of African origin in the UK.

The research questions set for the research are:
(1) How can the awareness of frontotemporal dementia (FTD) be raised using an art-based approach?
(2) What autoethnographic process preceded the development of the play 'My Name is Beatrice'?

My research approach is art-based, and the tool I used for my data interpretation is ethnodrama, which is a written transformation and adaptation of research data into a dramatic play script. I aim to present an aesthetically sound, intellectually rich, and emotionally evocative play that can capture my audience's attention and leave them with enduring memories.

The analysis focused on both the process that preceded the writing of a play about someone with dementia in a Nigerian immigrant community and the play itself. The data comprised two sets: my previous works and desktop research. These were analysed for their contribution to the process preceding the playwriting. The art-based part of this thesis included the play 'My Name is Beatrice' and its critical commentary.

This research explores and discusses the efficacy of using drama as an educational tool to raise awareness of a disease. Art has an instantaneous effect on an audience because it can capture their attention and leave enduring memories. In addition, my research shows evidence of the complex needs of people living with dementia in Black Minority Ethnic (BME) communities that can be highlighted through art-based research and methods in a meaningful way.

This art-based research has shown how ethnodrama can facilitate engagement and action from the researcher, participant, and audience. The aim is that this research would enlighten BME communities about FTD, the importance of early diagnosis and holistic approaches to care. The research will be a microcosm for further work that will enable educators and healthcare workers to share similar information within larger BME communities in the United Kingdom, other developed countries, and Africa. It will also enable educators and medical practitioners to understand the needs of BME communities and other similar groups worldwide.