Addressing climate vulnerability : promoting the participatory rights of indigenous peoples and women through Finnish foreign policy
Prior, Tahnee; Duyck, Sébastien; Heinämäki, Leena; Koivurova, Timo; Stępień, Adam (2013)
---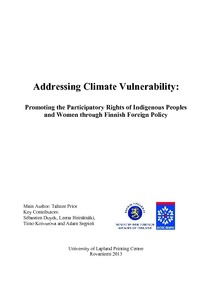 Prior, Tahnee
Duyck, Sébastien
Heinämäki, Leena
Koivurova, Timo
Stępień, Adam
Lapin yliopisto
2013
ISBN:978-952-484-667-7
Juridica Lapponica
Prior, Tahnee, Duyck, Sébastien, Heinämäki, Leena, Koivurova, Timo, Stepien, Adam (2013). Addressing climate vulnerability : promoting the participatory rights of indigenous peoples and women through Finnish foreign policy. Rovaniemi, University of Lapland, 2013. 288 s. (Juridica Lapponica, ISSN 0783-4144, No. 38.)
openAccess
Samankaltainen aineisto
Näytetään aineisto, joilla on samankaltaisia nimekkeitä, tekijöitä tai asiasanoja.
Onyango, Tom

(

Lapin yliopisto

,

2014

)

This master thesis (the "Thesis") aims at exploring the rights of the indigenous and minority groups how the rights relate to international human rights law. I will explore international legal statutes governing the said ...

Rajattu käyttöoikeus. Käytettävissä vain Lapin yliopiston kirjaston asiakaskoneilla.

Koivu, Virpi

Acta electronica Universitatis Lapponiensis :

182 (

Lapin yliopisto

,

2015

)

Tämä väitöskirja tarkastelee Suomen oikeuskulttuurin muuttumista siitä lähtien, kun Suomi liittyi Euroopan ihmisoikeussopimukseen (ihmisoikeuksien ja perusvapauksien suojaamiseksi tehty eurooppalainen yleissopimus). Ihmis- ...

Shrestha, Om Krishna

(

Lapin yliopisto

,

2016

)

A host state has become a victim of "fair and equitable treatment" investment standard offered to the foreign investment protection. Foreign investment dissatisfied with host state legitimate public measures affecting ...