Self-presentation and gender of chinese overseas students on social media : a case study of Sina Weibo
Xie, Jie (2014)
---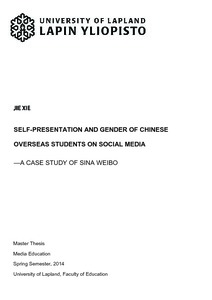 Lapin yliopisto
2014
openAccess
Julkaisun pysyvä osoite on
https://urn.fi/URN:NBN:fi:ula-201406231321
Tiivistelmä
Chinese micro-blogging sites have been developing dramatically in the past 5 years. Therefore, China is an interesting context in which to study Chinese young adults' self-presentation and gender identity on the most popular social media, Sina Weibo. This is a master thesis about self-presentation and gender on Sina Weibo. Six Chinese overseas students and their Weibo accounts were under investigation in this research and four participants were also interviewed. Three of the participants are female users and the rest are male users, including two homosexual participants.

The data was collected in November-December 2013 which consists of 6 Weibo accounts and 4 interviews. Content analysis was applied as the main methods in this research. An affordance perspective of social media was utilized as theoretical framework and three affordances were focused on in particular: visibility, interactivity and individuality.

The results from the analysis of three affordances of Weibo reveal that Sina Weibo serves as an open and dynamic platform for Chinese youngsters by encouraging social connection and enabling them to multimedia self-expression. However, social connection on Weibo was found not tight between participants and their audiences. The gender differences in use patterns and preferences were also found on Weibo. However, there is a big gap of social media skill among users, only quite a few users can drive this vehicle well and become opinion leaders. Additionally, Weibo serves as an open virtual community for non-heterosexual group, but it cannot replace the reality from where non-heterosexual group still suffer.