The arms trade treaty : an interpretive study
Huttunen, Mikko (2014)
---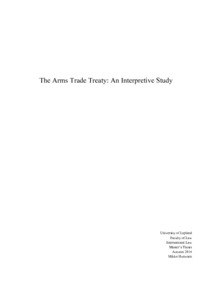 Lapin yliopisto
2014
openAccess
Julkaisun pysyvä osoite on
https://urn.fi/URN:NBN:fi:ula-201409231402
Tiivistelmä
In April 2013, the United Nations General Assembly adopted the Arms Trade Treaty (ATT) to control the virtually unregulated import, export, transit and brokering of conventional arms. The instrument, a combined effort of UN Member States and civil society organizations, was drafted to create the highest possible common international standards. Nevertheless, it was met with mixed reviews. Some called it a victory for the world's people and a powerful new tool, while others argued that it contains major loopholes or even that it represents a historic and momentous failure.

Taking on the presented praise and criticism, this study performs a critical jurisprudential analysis of the operational heart of the Treaty; the Articles regarding the scope, prohibitions and export of arms. To allow comparing how the different aspects of arms trade are regulated, the obligations of import, transit, trans-shipment States and States involved in brokering are also taken into account. Methodologically, this study relies upon the international rules concerning the interpretation of treaties as set forth in Articles 31–33 of the Vienna Convention on the Law of Treaties, brief analysis of which is the starting point of the study.

This study concludes that the Arms Trade Treaty contains major shortcomings: many supportive and autonomous weapon systems are excluded from its scope, ammunition and parts are not fully integrated, and most of the prohibitions just reaffirm pre-existing obligations. The Treaty sets rather a high threshold for not authorizing export, and the obligations of importing, transit and brokering States are quite undemanding. Still, the ATT contains many novel and important elements, and it clearly has an operational heart: it covers a wider range of conventional arms than previous instruments, addresses the imperative to follow the resolutions of the UN and international agreements, and deals with the connection between arms, ammunition, international crimes, serious humanitarian law and human rights violations, terrorismrelated offences and acts of transnational organized crime. To determine the total worth of the instrument, further studies will be required to evaluate its practical effects on the behaviour of States Parties.