Arbitral tribunals and national courts : constant battle or efficient co-operation?
Haikola, Elina (2013)
---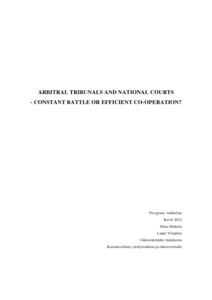 Lapin yliopisto
2013
openAccess
Julkaisun pysyvä osoite on
https://urn.fi/URN:NBN:fi:ula-201306051204
Tiivistelmä
Arbitration is a private method of dispute resolution used mostly in commercial relationships. It provides the parties an efficient way to finally resolve their disputes outside national courts. This study presents the basic principles of international arbitration focusing on the interaction between arbitral tribunals and national courts. It is not always clear which one has the jurisdiction on certain issues and in some cases the parties may face the risk of being involved in parallel proceedings.

The basis for international arbitration is the arbitration agreement, from which the jurisdiction of the tribunal is derived. Without an agreement there cannot be any jurisdiction on the arbitrators to decide the issue. The most controversial situations are when the other party contests the validity or existence of the arbitration agreement and therefore the jurisdiction of the tribunal. The principle of separability of the arbitration agreement from the main contract helps to define jurisdiction in these situations.

The study is structured to present some distinct features of arbitration as the basic rules related to arbitration agreement and the general principles governing the recognition and enforcement of arbitral awards under the New York Convention. An award would have no significance if it could not be enforced where needed. Through the widely accepted New York Convention arbitral awards are presumed to be enforceable, and the enforcement can be denied only on specified grounds. Enforcement is the main task of national courts concerning international arbitration.

Tribunals and courts both have certain jurisdiction in arbitration based on international principles and national legislation. The tribunal may rule on its own jurisdiction; this principle of competence-competence helps to define jurisdictional questions in unclear situations together with the principle of separability. A request may also be made to a national court concerning the jurisdiction of the tribunal, in which case the court must determine whether it decides the issue and in which extent, or whether it refers the parties to arbitration. National courts always have the final word on jurisdictional issues.

Interests of the parties may need protection before the tribunal is constituted, which can be done by applying for interim measures of protection. Interim measures may be ordered by the tribunal or a court depending on what kind of measures are needed and when. From a special emergency arbitrator parties may apply for protective measures before the constitution of the tribunal, this is otherwise possible only from national courts. Option to use emergency arbitrator may diminish the collision of jurisdictions in case of interim measures.