Film Costumes as Icons – three representations of a hero's iconic film costume
Annila, Pirjo (2014)
---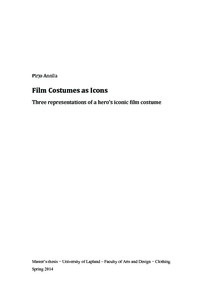 Lapin yliopisto
2014
openAccess
Julkaisun pysyvä osoite on
https://urn.fi/URN:NBN:fi:ula-201406181295
Tiivistelmä
The objective of the study was to examine the definition of the concept of icon in the context of film costumes. The study focused on the spectator's point of view. Key terms provided the theoretical point of view of my thesis. The aim was to explain the concept of icon by analyzing three costumes and compare results to semiotic Juri Lotman's concept of icon and describe the relationship between them.

This thesis is a qualitative study that provided a deeper theoretical knowledge of the concept of icon. Main source of evidence was the analysis of the three film costumes from the feature 50 Most Iconic Movie Looks. Cinema's sartorial trendsetters and their signature outfits from the TotalFilm.com –website. The criteria of genre, sex and release date of the film defined the choosing of the costumes. The analysis was conducted by adapting two analyzing methods of Roland Barthes: The Five Codes and Rhetoric of the image. They are methods of qualitative content analysis of an image. The main purpose of the study was to link Lotman's theoretical point of view with the analysis of three film costumes.

Findings of the study showed that it is possible to find the iconic aspects of the film costume from semiotic point of view. The iconicity of the film costume is its ability to change the character's garments into meaningful and important signs for a spectator. The sign language of film costume is open for the spectator because it is understandable in his culture.