Boundaries and Agency in Climate Uncertainty : Encountering Traditional Knowledge at the Edges of Science
Cockburn, Lisa M. (2008)
---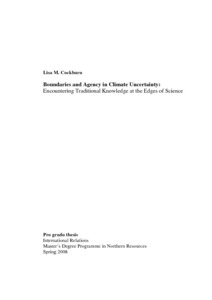 Lapin yliopisto
2008
openAccess
Julkaisun pysyvä osoite on
https://urn.fi/URN:NBN:fi:ula-201011251019
Tiivistelmä
Climate change has become an important and politicallycharged
arena where traditional indigenous knowledges meet Western scientific knowledge. The positioning of Arctic science, at the edges of the scientific discourse but the centre of the climate change debate, makes it a philosophically probable and politically crucial location for questioning
the foundations of Western science. By critically examining northern research that attempts to bridge the gap between traditional and scientific understandings of climate change, I ask the question, what do these meetings reveal about science? Studying how traditional knowledge appears through the lens of science can reveal much about
science itself. In its attempt to predict the future, science becomes engaged in a neverending battle with uncertainty, but a core element of climate change is increased uncertainty. I discuss how more data may not provide the hoped for answers, but a change in attitude towards uncertainty might. Unlike science, traditional knowledge is more accepting of uncertainty, and while this is often attributed to spiritual elements, the
key is nonhuman agency. I introduce new materialism as an emerging philosophy which restores agency to the nonhuman world through its holistic ontologyepistemology, offering science the possibility of accepting uncertainty without invoking spirituality. When traditional knowledge and science meet, boundaries can be created, reinforced, or overcome. By dissolving boundaries without erasing differences, new materialism
offers the potential of decolonizing the Western scientific paradigm, thus opening it up to alternative ways of understanding and allowing it to be more effectively used as one of many tools in coping with climate change on both local and international scales.