Active ageing: controlling the (ageing) bodies
Kiuru, Hilla (2012)
---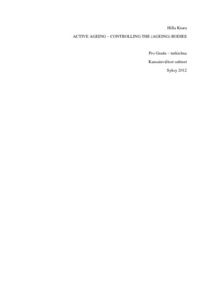 Lapin yliopisto
2012
openAccess
Julkaisun pysyvä osoite on
https://urn.fi/URN:NBN:fi:ula-201211061241
Tiivistelmä
This study focuses on the concept of active ageing in the "Active Ageing: A Policy Framework" by World Health Organization. The purpose is to understand the meaning and the origins of the concept with the help of Foucauldian perspective. The analyzing method is content analysis guided by theory. The theoretical framework consists of Michel Foucault´s ideas about governmentality, subject and power and Nikolas Rose´s thoughts about governing. Gilles Deleuze´s control society is also part of the theoretical framework.

The subject of active ageing needs to follow a regimen based on activity and health. Governmentality on the society level supports this subjectivity and thus connects them to the network of power; the special nature of the older population is recognized. Even though the concept is named "active ageing" the subjects do represent a wider age scale. These subjects need to prepare for the old age both economically and health-wise. This shows that the whole time of living, not only the old age, is medicalized.

When it comes to the origins of the concept of active ageing and the user of power there is a connection to social gerontology and activity theory, and rationalities. The neoliberal rationality has affected on the knowledge that has been produced of the ageing and this is seen in the connection between the activity theory and active ageing. This, and the network structure of the different actors, makes it challenging to find the source of the power when it comes to the concept of active ageing.