Contested modernities in Turkey : constituting the modern subject in Bilkent University
Kopra, Taika (2013)
---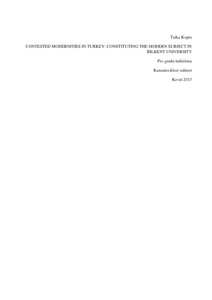 Lapin yliopisto
2013
openAccess
Julkaisun pysyvä osoite on
https://urn.fi/URN:NBN:fi:ula-201305281163
Tiivistelmä
This thesis analyzes different ways of constituting the modern subject among the students of a Turkish elite university. The research material was gathered by interviewing thirteen Bilkent University students in Ankara, Turkey, in the spring of 2010. By applying postcolonial theory, the modern was understood as a political, rather than a neutral concept. The alternative modernities perspective was employed as a way to create an understanding of competing discourses of the modern subject. In the Turkish context, religious conservatism has challenged previous interpretations of the secular modern subject provided by Kemalist laicism in the early republic.

This thesis concludes that there was not a single way to constitute a modern subject position, but many. Competing understandings surfaced inter-subjectively, therefore modern subject positions were described in relation to certain Others. Stereotypical, spatial, temporal and ethical ways of "othering" were used. The "East" constituted the most significant internal Other for the interviewees. Differences between eastern and western parts of the country were often narrated in gendered terms. Second, modern Muslim and secular subject positions were interpreted as competing narratives of the "modern" national Self. The secular narrative had transformed from the historical rejection of religious expression in the public sphere towards a new appraisal of tolerance. The religious discourse rejected the secular modern as a form of cultural imitation and adopted a selectively modern position.

Finally, since particular signs of "modern" femininity have been fundamental to the constitution of the modern subject in Turkey, narratives of modern gender roles were analyzed both through the challenges towards the dominant sexual norm of virginity before marriage and the sustaining of conventional gender roles within the "modern" Turkish family. This thesis sought to provide an understanding of the competing and gendered narratives of the modern subject in Turkey.