Terrorism and religion : brazilian media's image of religion inspired terrorism
Ribeiro, Rodrigo T. (2013)
---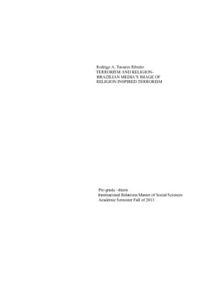 Lapin yliopisto
2013
openAccess
Julkaisun pysyvä osoite on
https://urn.fi/URN:NBN:fi:ula-201402061009
Tiivistelmä
My research question was: How do Brazilian Media Portray Religious Terrorism? The aim of this thesis was to analyse Brazilian media's articles and speeches related to the theme of religious terrorism and bring the findings more accessible to Finland and Europe.

I collected several articles from Brazilian Internet news websites as well as few articles from foreign websites and analysed those articles using a mixed method of qualitative discourse analysis and content analysis.

Discrepancies were found between Brazilian government's official position of Brazil being a terrorist free country while Wikileaks revealed that there are individuals acting and behaving like terrorists in Brazil. When arrested, those individuals were charged with other charges than terrorism, possibly to not attract media's attention to them. The articles written in Informal style varied from non emotional to strong emotional connoted, figures of speech such as metaphors metonymies, accismus were richly used.

Towards the end, Arab culture in Brazil as well as fundamentalism and extremism religion movements in Islam were used as background to why Brazilian press portrays such image of terrorism. Brazilian journalists were divided; some alarmists warning of a near terrorism danger while others commenting that this is non sense.

Brazil has a clear historical peaceful co-existence between different religious groups and has been so far not affected by bombings or anti-immigration feelings seen in other countries, making Brazil a good role model of integration and tolerance.