Settlement process of Afghan immigrant women based on cultural perspective in Finland
Kalvakhi, Niloufar; Hassan, Nabeela (2014)
---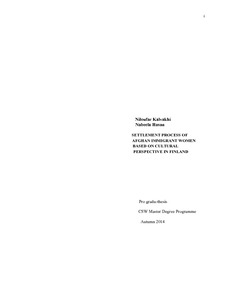 Kalvakhi, Niloufar
Hassan, Nabeela
Lapin yliopisto
2014
openAccess
Tiivistelmä
The study examined the settlement issues of Afghan immigrant women from a cultural perspective in Finland. The study explores the process of Afghan women settlement and focus on the cultural causes, aspects and the issues which make the settlement challenging and difficult for them. It also considers how these women face with these challenges during their settlement.

The theoretical frameworks of this study are Frames for understanding settlement process and immigrant settlement experiences. The immigrant's settlement experiences explain immigrant's cultural challenges and the coping strategies which they use to deal with the cultural challenges. It also studies the services which immigrants receive during the process of their settlement such as social work services and migrations services during their settlement process which can make the process easier for immigrant women.

This study is qualitative research where data was analyzed using content and thematic analysis. The data was collected from interview with six respondents. Participants in the study included six adult Afghans immigrant women who have resided in Finland more than 3 years .They were interviewed separately with open –ended in-depth interviews.

The thesis explains the main cultural aspects which bring issues for Afghan women settlement (religion, language, discrimination, family…) and the cultural aspects which immigrants use in order to overcome their challenges (Religion, individual attributes, social support). The analysis of the interviews resulted in three core themes (1) cultural challenges (2) Personal coping strategies (3) Satisfaction level from receiving social services.

The central argument of this study is about immigrants who face different challenges as soon as they left their countries. Beside self-awareness and having positive attitudes, immigrants need different kind of support in order to overcome these challenges and reach to a balance in their new lives. There is lack of knowledge about immigrants in between the people of countries which immigrants migrate and even between the service providers. There is a need for more comprehensive and multicultural knowledge about immigrants. People and service providers need to be more educated about immigrants in order to ease the process of their settlement after migration.