"Hope is the last thing to die in life" : mapping out the needs and hopes of dump pickers in Maputo as a part of a process of empowerment
Paco, Hilde (2015)
---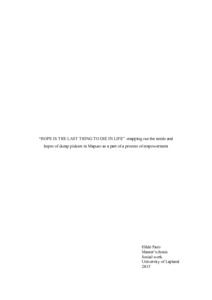 Lapin yliopisto
2015
openAccess
Tiivistelmä
The goal of the research was, through action research, to map out dump pickers' hopes and needs as a part of a process of empowerment in Hulene B. garbage dump, Maputo, Mozambique. The research identified what kinds of interventions rising from empowerment can be applied to "Bocaria" dump, starting from the hopes and dreams of the dump pickers. The research also investigated how dump pickers perceive the forthcoming closure of the dump and what kinds of plans they have for after the closure. The action research was carried out in July 2014 and the research included theme interviews, observations, picture analysis and problem analysis in the dump. The research included 23 short interviews with the dump pickers and one interview with a waste buyer. The theme interviews were analyzed using content and theme analysis. Empowerment and Freirean thinking were used as a theoretical framework and related to poverty reduction.

In the research it was observed that dump pickers have dreams and hopes for the future. Even decades in the garbage dump have not kept them from dreaming of a better future for themselves and their families. The focal observation of the research was that the dump pickers mainly dream of a life outside of the dump and they are motivated to do any kind of work or studies to make a living outside waste picking. Many dump pickers dream of specific things like starting their own business.

According to the principles of empowerment, dump pickers' hopes and dreams were used to form suggestions for future projects and design plans for a project starting in the summer of 2015. The research shows that dump pickers are a diverse group of people and they hope and need different things. Different groups of people require different interventions. Mostly they live in extreme poverty and work and live in dangerous and inhumane conditions. The dump pickers perceived that life after the closure of the dump will provide only misery and hunger and lead them into questionable measures to find an income, like prostitution and theft. The central conclusion is that dump pickers have a critical need for social and material support and targeted interventions, so that they can be supported to find alternative sources of income after the dump is closed in the near future. Without support, their opportunities to find alternative incomes are minimal.