Inspiration: An Analysis of Students' Conception of Inspiration in Art and Design
Stolz, Laura Elisabeth (2015)
---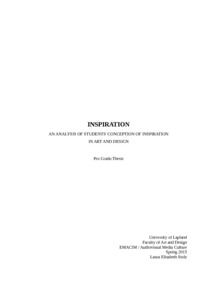 Lapin yliopisto
2015
openAccess
Julkaisun pysyvä osoite on
https://urn.fi/URN:NBN:fi:ula-201504241081
Tiivistelmä
This study aims to establish an analysis of the inspirational sources used in creative
working by students of the Faculty of Art and Design of the University of Lapland. My
hypothesis is that nature is the main source of inspiration used by the students in their
creative work.
The information about inspiration is collected from eight students through a questionnaire
consisting of ten open-ended questions. The questionnaire aims at the collection of
information about the creative work of the students, their former place of study, and their
inspiration in creative work. The group of informants is composed of four Finnish students
and four international students – from Austria, Italy, Sweden, and Ukraine.
The categories of the informants' inspirational stimuli establish from the information given
in the answers of the questionnaires. For the coding of the categories I use the thematic
analysis. The categories are the starting point for interpretations, the main part of the
analysis, and the summary of the information found in the answers to the questionnaires.
The findings are combined with the theoretical background which is defined in the first
part of the research. All these categories are important to describe the phenomenon of the
inspirational sources of students of the Faculty of Art and Design in Rovaniemi.
The study shows that the social and the physical environment – which includes nature – are
the most important sources of inspiration in the creative work of the students of the Faculty
of Art and Design. All informants mention nature as source of inspiration in the
questionnaire. I conclude that nature has an important influence upon the informants'
creative inspiration, but it has no exclusive priority. More important is an environment in
which the individual feels safe and comfortable to be able to work creatively.