Reading Pictures, Constructing Narratives: A Study upon Pictorial Narrativity and a
Alatalo, Malla (2015)
---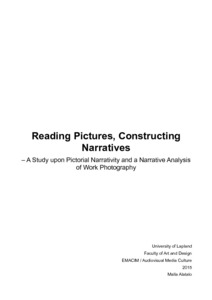 Lapin yliopisto
2015
openAccess
Julkaisun pysyvä osoite on
https://urn.fi/URN:NBN:fi:ula-201505041097
Tiivistelmä
This pro gradu thesis aims to find out how pictorial narrativity can be defined. It also aims
to explore photograph's narrative potential through narrative analysis of work photography.
The research material consists of 20 black&white photographs taken by Jaakko Alatalo in
1980's–1990's. In addition to the principles of narrative research, the analysis also leans
on the tradition of semiotics and stretches some concepts of narratology to be used in
analysis of pictorial representations.
The theoretical framework of the study consists of controversial scientific discussion about
narratives, narrativity and pictures' ability to tell stories. Many theorists tend to point out
that the main problem in narrativity of a single still picture is its inability in representing
temporal continuum of events. The author's approach to the subject is interpretatororientated
and it also has emphasis on intentionality; narrativity of a picture is a matter of
photographer's intention and receiver's activity as an interpretator.
The research results of the narrative analysis of work photography gave a subjective
insight to the work culture of Western Lapland in 1980's and 1990's by categorizing
photographs into five different types of narratives. The analysis also showed that there are
different levels of narrativity and that the viewer's role in the construction of a narrative is
emphasized if the picture's level of narrativity is low.