Resilience: an all-encompassing solution to global problems? A biopolitical analysis of resilience in the policies of EC, FEMA, UNDP, USAID, WB, and WEF
Jakola, Iiris (2015)
---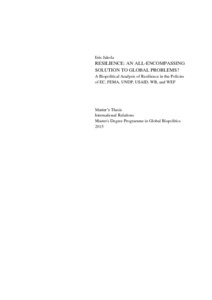 Lapin yliopisto
2015
openAccess
Tiivistelmä
This thesis examines the use of resilience in international policy-making. A concept that originally meant an ability of ecosystems to absorb disturbance has not only been welcomed in many disciplines outside ecology, but lately become popular in the policies of international organisations that claim resilience as a solution to various 'global problems' such as climate change, underdevelopment, or economic crises. The study contributes to the ongoing critical discussion on the governance effects of resilience. Here, the Foucauldian theory of biopolitics and the concept of governmentality are useful. Resilience now addresses human systems and communities with concepts from natural sciences, thus making it a biopolitical phenomenon.

Specifically, the thesis asks how mainstreaming resilience affects the pursuit of agendas in six organisations: European Commission, Federal Emergency Management Agency, United Nations Development Programme, United States Agency for International Development, World Bank, and World Economic Forum. Using Foucauldian discourse analysis, the study is thematically divided into adaptive, entrepreneurial and governing aspects of resilience. Each part explicates how truth, power and subjectivity are constructed in the discourse. The analysis shows that contrary to the policy claims, resilience does not function as a solution but is constitutive of the problems it attempts to solve. The current policy discourse confirms pre-existing practices and power relations, and further problematizes issues on the agendas.

The thesis confirms that the policies are trapped in a neoliberal biopolitics that has problematic implications for human subjectivity and political agency. It further concludes that if resilience is to have any practical relevance and positive effects, the policy discourse has to be changed, for which current critical accounts do not offer a plausible direction. Therefore, a distinction between resilience as a policy tool and social resilience is needed, whereby the use of resilience as a policy solution is reduced to disaster risk reduction and similar technical functions, and social resilience is recognised as a communal capacity that cannot be subject to policy regulation.