Alcohol use among international students in Lapland
Wanjiru, Hellen (2015)
---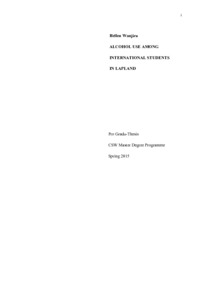 Lapin yliopisto
2015
openAccess
Tiivistelmä
The study examined the situation of alcohol use among international students in Lapland. It was a comparative study on how their drinking habits were in their home country to how they are in Lapland. It looked at whether the wet drinking culture in Finland has influenced their drinking habits. It also looked at the causes of alcohol use among international students as well as its positive and negative effects.

The theoretical frameworks of this study are Frames for understanding causes and effects of alcohol use among international students and the kind of party and drinking culture that they have established. Under the frame of culture, the study also looks at the values, norms and habits of students as well as alcohol use along gender lines. The frame of understanding youths and alcohol use in the college setting looks at youth as an important phase of life that has several challenges which make them vulnerable to alcohol use.

The study is a qualitative research where data was analyzed using thematic analysis. Quantitative data was presented using tables then analyzed qualitatively to show the situation of alcohol use among these students and to make comparisons in alcohol use back home and in Lapland. The data was collected from a survey on 30 international students. The questionnaire was sent to respondents through social media platforms like Facebook or via email addresses and they were answered anonymously.

This thesis the level of alcohol use control among international students and how the Finnish drinking culture has influenced their drinking habits as well as why some students chose to abstain from alcohol use. It shows the practices of alcohol use that are present among international students, why they drink and how it affects them and their studies.

The central argument in this study is about how the wet Finnish culture affects alcohol use among international students. For some it has increased their alcohol use but others have managed to escape the influence. It is important for international students to have other avenues of socializing such as games and clubs because this seems to be the biggest cause of alcohol use among them. However, most international students are able to control their alcohol use such that their lives and studies do not suffer.