Food for thought : consumer culture ideology in Regular Show
Rodriguez Hervella, Sarai (2015)
---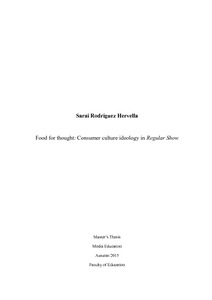 Rodriguez Hervella, Sarai
Lapin yliopisto
2015
openAccess
Julkaisun pysyvä osoite on
https://urn.fi/URN:NBN:fi:ula-201511101367
Tiivistelmä
In this study, the aim was to analyse the representation of consumer culture in an American animated television series, Regular Show. Under this main goal, four subquestions were designed 1) How is junk food depicted in Regular Show cartoons? 2) What kind of junk food products are presented more often? 3) How does Regular Show contribute to maintain brand awareness in its audience? and 4) What kind of connotative readings can be made of Regular Show content that directly or indirectly emphasize consumer culture?

The study design was based on the triangulation of two different methodologies: the content analysis of 46 episodes and a semiotic analysis of 3 images.

The analysis revealed junk food items to be strongly depicted in the series, being sweet snacks and soda the items with the highest representations. Evidence showed how Regular Show series could be a possible contributor to maintain the brand awareness of its audience. The connotative readings of the images disclosed how consumer culture is emphasized and applauded in different ways.

In the discussion, Regular Show was interpreted as a purveyor of nothing, a concept central to the theory of globalization that supported this study. Based on its content, Regular Show is perceived as a threat to the local and glocal forms of something that exist in the world.