Battling around the truth of the GMOs : a content analysis about the role of truth and power as a means of creating governance and resistance
Moilanen, Iida (2016)
---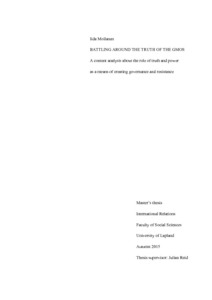 Lapin yliopisto
2016
openAccess
Julkaisun pysyvä osoite on
https://urn.fi/URN:NBN:fi:ula-201604251118
Tiivistelmä
This master's thesis approaches the debate around biotechnology, genetically modified organisms (GMOs) and the notion of food sovereignty as they are addressed by an Indian, food sovereignty activist group called Navdanya. Basing on the material produced by Navdanya, I am determining, by the means of a theory guided content analysis, what kind of an alternative food sovereignty is. Furthermore, I am examining how food sovereignty can be considered as a means of resistance to the impacts of the GMOs in India. I am arguing that the introduction of the GMOs to India created an opportunity to govern populations and furthermore life and nature.

I am examining this by utilising Michel Foucault's theory of biopolitics as a theoretical framework. In order to find out how governance and resistance are practiced, I utilise Foucault's notions of truth and power by illustrating how they can be utilised as a means to create governance and resistance. Therefore, I formulated a "truth regime of biotechnology" to represent the governance, operated by the actors supporting the utilisation of the GMOs, as well as to describe how the governance is created and justified under the regime. As a means of resistance, Navdanya produces alternative truths and puts into practice an alternative of food sovereignty – "the new politics of truth".

Navdanya succeeds in its resistance by managing to create the alternative truth of food sovereignty, which does not utilise or reproduce the truths of the biotechnology regime. Navdanya does this by managing to detach the power of the biotechnology regime's truths from their economic and political roles they play in society. The traditional complexity with resistance, in relation to the State of India, is present, which can be however explained by utilising the new ways in approaching the notion of resistance in the context of the Global South.