Give Me a Re•s8n: Three Cycles of Dialogical Art-based Action Research to Support a Community of Volunteers Who Work With Migrants
Marttila, Terhi (2016)
---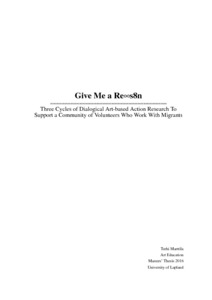 Lapin yliopisto
2016
openAccess
Julkaisun pysyvä osoite on
https://urn.fi/URN:NBN:fi:ula-201606141207
Tiivistelmä
The purpose of this study is to find out what a dialogical workshop can put in motion
amongst a community of volunteers working with migrants. The workshop format is evaluated and developed to find out what works and what doesn't, and what should be taken into consideration in future dialogical projects. The project includes an interactive button (http://www.givemeareason.info) to address the question of why people help by randomising the original sentences so that eight (8) reasons for helping become infinite (•) reasons for helping.
I employ art-based action research with three cycles of action. The action happens through a dialogical workshop. The workshop consisted of a pair conversation around guided topics, the creation and performance of a mantra of eight reasons in the form "I help because.." and a final group conversation followed by a shared dinner. Because we reflect on why we help the migrants, the project has elements of socially engaged art and social justice art education. Interviews after the first workshop are used to evaluate the experiences of participants. I work with a co-researcher, a fellow volunteer, to plan, act, observe and evaluate the second and third workshops. Analysis of the workshops are based on the four interviews, our observations, feedback from the participants as well as audio recordings of the workshops.
The participants perceived that the workshop created social cohesion. Importantly, hearing others' eight reasons for why they volunteer was valuable primarily because it was seen as a validation of ones' own thinking. Workshop cycles which created a physical and psychological space for the dialogue were more successful in meeting the objectives of the dialogical aesthetic. Creating performative interaction with the conversation topics led to more discussion of the topics and less wandering away from them.
The mantra is the heart of the workshop and thus the Give Me a Reason -button is in symbiosis with the workshops. The workshop cycles provide material for the button and the button lives on beyond the workshops. The general public can interact with the button to think about why some people choose to help the migrants.