Smart Glasses Design-Exploring user perception of wearable computing
Farnaz, Vahabpor Roudsari (2016)
---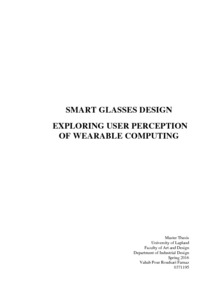 Farnaz, Vahabpor Roudsari
Lapin yliopisto
2016
openAccess
Tiivistelmä
As technology is growing rapidly and integrating itself to all aspects of people's life, designers and developers try to provide a more pleasant experience of technology to people. One of the technology trends which aims to make life easier is wearable computing. Wearables aim to assist people to be in control of their life by augmenting the real life with extra information constantly and ubiquitously.
One of the growing trends of wearable computing is Head Mounted Displays (HMD), as the head is a great gateway to receive audio, visual and haptic information. Also due to the Google Glass project, wearables in form of glasses gained much more attention during last years.
However, because of the early stages of the technology adaptation, there is still much to explore on social acceptancy, key use cases and design directions of glasses as a type of wearable computing.
This thesis has two stages. In the first stage, the aim is to explore the different use cases of a wearable eye tracker concept in different context and study the user's perception of such a device. To accomplish this objective a user study with (n=12) participants were conducted using the experience sampling methods (ESM) and employing a mock-up of a smart-glasses as a design probe.
In the second stage the focus is to design different alternatives for a wearable eye tracker concept and evaluate the concepts by conducting focus groups (n=14) to understand the user perceptions toward different industrial design concepts of such a system.