A Host state regulatory right in Fair and Equitable Treatment (FET) in Bilateral Investment Treaties (BITs)
Shrestha, Om Krishna (2016)
---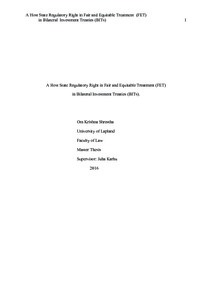 Lapin yliopisto
2016
openAccess
Julkaisun pysyvä osoite on
https://urn.fi/URN:NBN:fi:ula-201606201240
Tiivistelmä
A host state has become a victim of "fair and equitable treatment" investment
standard offered to the foreign investment protection. Foreign investment dissatisfied with
host state legitimate public measures affecting their investment demand FET protection
alleging investment protection violation. Foreign investors strong pitching for FET standard
protection subordinating every sovereign host state regulatory action is creating friction
between the parties. While host state insists non-discriminatory police power inherited in
FET regulation for public measures, in contrast, foreign investors demand absolute protection
of foreign investment.
Emerging and developing host country were early targets of foreign investment. A
capital export from developed source state to emerging and developing host state is not
anymore unidirectional but bidirectional. The investment from emerging and developing
economies to developed countries are in rapid increase. Earlier emerging and developing host
country were in voracious attack from established source state foreign investors. These
suffering host states were fighting for their sovereign rights to regulate for public protection
and interests, however, no to avail. Developed source state supporting implicitly for their
investor's investment protection became a victim of themselves. Rules applied to other
became a loop to themselves whom they are now fighting to defend host state administrative
rights for the public purpose. The absolute FET has become more fickle and in a way of
balancing stage recognising outstanding and value of regulatory rights in FET.
My dissertation explores on the same line that FET protection standard for foreign
investors and their investment is reciprocal to host state just and equitable regulatory public
measures. Host state non-discriminatory measures are non-compensable and legitimate of
sovereign rights when public protection and security demands. This adduces long believed
and practiced host state necessary steps of domestic law and order. It is evidence by Modern
Model BIT, in arbitration practices and even developed source states opposing absolute FET
standard protection. These methods proved that predatory nature of alleging FET violations
are not only harming host country but also negativity in foreign investors and their
investment. The future is not about only host state rights regulatory measures but also foreign
investors and their investment self-regulatory measures like corporate social responsibility.