What is the Recipe of Success at Work? : Employee Perceptions from a Finnish Telecom Company
Karima, Salla (2016)
---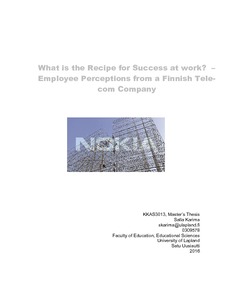 Lapin yliopisto
2016
openAccess
Julkaisun pysyvä osoite on
https://urn.fi/URN:NBN:fi:ula-201610281350
Tiivistelmä
Success at work as a phenomenon provides an attractive perspective to observe working life. Success as a concept itself has a positive echo and as it is a subjective experience, it can be associated with different things, such as feelings, results, competences and achievements. Today's global business environment, characterized by rapid changes and uncertainty, brings new requirements to individuals and organizations to understand different factors behind the success. These factors are relevant and meaningful for a company's competitiveness and employee's engagement. Companies share an interest to recruit top talents in a global marketplace and therefore it is important to understand how employees are experiencing work success.

The aim of this study was to find out what it requires to be capable to succeed at work. In addition to this main target, the purpose of this study was to understand what might be the possible obstacles and personal factors hindering employee's success. This study was a case study and concentrated on employees who have been selected in the High Potential and International Graduate Trainee –programs in Nokia. These employees represented talents in a particular organization in Nokia.

This study was constructed by using a qualitative multimethod approach. The data was collected in two phases. In the first phase, participants (N=15) wrote written frame stories where method of empathy-based stories (EMBS) was utilized. In the second data collection phase, semi-structured theme interviews (SSI) for selected employees (N=6) were conducted. Data was analyzed by utilizing theory-driven content analysis. Parts of the theoretical concepts, such as work success and work motivation, were brought as such to the study from earlier studies and theories.

Work success appeared as a multidimensional phenomenon where both, the employee and the workplace has a role. Success at work was transpired as a subjective work experience forming in a certain context. Results indicated that talented employees shared a similar view and reality on how work success was experienced. Employees perceived the possibility where success factors were possible to occur. Pos-itive attitudes and engagement factors such as willingness to learn, resilience, being curious and open-minded and stepping out of a comfort zone were seen as prerequisites for success. Having the ability to lead own development and learning were seen essential, and the importance of communication skills were especially highlighted.

Study indirectly revealed that lack of motivation might be the major obstacle prevent-ing success. Motivation was seen as a fundamental as well as a prerequisite for any learning to take place. Therefore, it is crucial for organizations to understand factors connected to positive work engagement. This study strengthened the understanding that engaged employees are proactive and motivated to continuously look for new challenges.