A case study in the application of human-centered design James Craig
Jordison, Sarah (2016)
---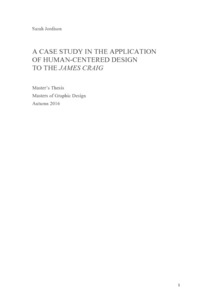 Lapin yliopisto
2016
openAccess
Tiivistelmä
The evolution of design, in particular the emergence of participatory design, is
challenging the way designers work with users to develop effective solutions.
This thesis examines the practical application of IDEO's human-centered design
process to the development of an effective solution for the James Craig, an operational
historical vessel, using a participatory design approach.
The intent of the case study was to ascertain whether or not James Craig volunteers
could successfully participate in the ideating, conceptualising and prototyping
stages of the design process, to develop a solution that works within the
James Craig's operational requirements and heritage listing restrictions. It also
aimed to discover whether or not involving volunteers in the process could help
in securing funding for the implementation of the desired solution.
This thesis discovered that IDEO's human-centered design process was instrumental
in the development of the final solution of an exhibit which communicated
the James Craig's story and value to its visitors outside of the guided tour
format. Volunteer participation in the process via a participatory design approach
resulted in dynamic ideas, support for a new approach and the opportunity
to progress the project into an implemented solution which is hoped to
contribute to the ongoing successful operation of the James Craig.