Decommodifying volunteer tourism? : insights from nordic non-governmental organizations
Simkute, Toma (2017)
---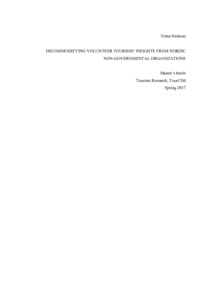 Lapin yliopisto
2017
openAccess
Julkaisun pysyvä osoite on
https://urn.fi/URN:NBN:fi:ula-201702021067
Tiivistelmä
Volunteer tourism is a dichotomy of altruistic charitable work and hedonistic leisure play. The idea of traveling for volunteering is to assist others while experiencing unfamiliar conditions, being able to manage those and returning enriched. Over the past decades, many actors have been taken advantage of the substantial growth in demand for volunteer tourism turning volunteering into millions generating business. As a contrast to the commodification of
volunteer missions, non-governmental organizations (NGOs) have sought to provide more ethical and philanthropic ways of volunteering.

Within the field of tourism studies, volunteer tourism is situated along the lines of social, responsible, sustainable, moral, alternative, and eco-tourism. Volunteer tourism has been
predominantly researched either from volunteer or host community perspectives, and little research examined NGOs in facilitating volunteer tourism projects. Theoretically, this study draws upon the critical stream of literature, which highlights negative impacts of tourism commodification. Critics emphasize that instead of focusing on the needs of host communities, the provision of packaged, exotic, cultural consumption experiences in developing countries
has become the main objective of the volunteer tourism market.

This study aims at understanding how Nordic NGOs decommodify volunteer tourism through their everyday practices. The empirical material consists of seven semi-structured in-depth interviews with NGOs' representatives which were gathered in spring 2016 and analyzed through qualitative content analysis. Findings suggest that those Nordic NGOs which are more in line with community needs tend to decommodify volunteer tourism projects by selecting
only skilled volunteers, assigning them to tasks according to expertise, in addition providing cultural education. Decommodifying volunteer tourism means embracing ethical engagement
with local cultures and environments as well as fostering local economies. Nonetheless, those Nordic NGOs which are more oriented towards the neoliberal market, prioritize personal
development of volunteers over community needs.

In general, results indicate that decommodification of volunteer tourism exists as a multifaceted phenomenon and occurs on a spectrum of simultaneous practices. This study provides insights to NGOs and other actors that are interested in enhancing more responsible forms of volunteer tourism by underlying the importance of community, instead of a commodity, centered approach.