The content and function of school social work in Lalitpur, Nepal in general frame of school social work
Vaidya, Kriti (2017)
---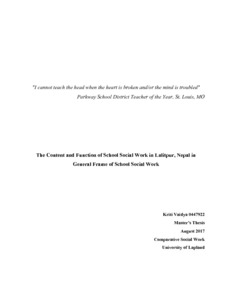 Lapin yliopisto
2017
openAccess
Julkaisun pysyvä osoite on
https://urn.fi/URN:NBN:fi:ula-201709111302
Tiivistelmä
This study determines the content and function of School Social Work in Shree Jana Udaya School Lalitpur, Nepal where the position of School Social Worker is absent. The theoretical framework for this research is 'School Social Work Model' developed by School Social Work Association of America. The school chiefly serves low-income families and domestic workers. I interviewed 11 respondents – 5 students, 3 teachers, and 3 parents; interviews were voice recorded and transcribed.

The research design was qualitative and exploratory, incorporating elements of ethnographic data collection and exploratory thematic analysis. Analysis of the data revealed several salient themes. The school is free from discrimination and ensures gender equality. School facilities, activities and opportunities are available to all the students and the teacher-student relationship is positive and healthy. SMC and PTA have been instrumental. School has progressed, significantly in terms of organization, stricter school rules, regular monitoring of student's performance through examinations and emphasis on extra-curricular activities.

However, weak home-school-community linkage was noted. Most of the parents are unmindful about the significance of home school partnership as well as their role in ameliorating their child's achievement and learning. The efforts from school in augmenting parental and community involvement is insufficient. Also, the results signify incompetent teaching-learning environment mainly because of execution of lecture method, insufficient educational facilities and teaching-learning equipment, use of corporal punishment and ineffective measures to deal with academic failures.

The perplexity among the respondents concerning teasing and bullying was noticed. Although few cases of bullying are found, neither awareness programs nor prevention programs have been conducted by the school. Students bullying teachers was also discovered. Drug abuse has also been a problem among students in this school, however, the respondents claimed that it is decreasing.

These issues and problems existent in the school are scrutinized from the perspective of school social work and function of School Social Worker in dealing with problems and challenges are proposed.