The UNICEF policy program of Child-Friendly School in practice in Sunrise Boarding School
Shakya, Anjali (2017)
---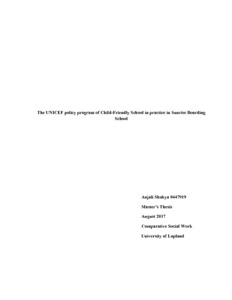 Lapin yliopisto
2017
openAccess
Julkaisun pysyvä osoite on
https://urn.fi/URN:NBN:fi:ula-201709111305
Tiivistelmä
The research study examines the level of implementation of UNICEF Child-Friendly School model, positive initiatives as well as challenges of Sunrise Boarding school, it is a private school located in Kathmandu, Nepal. The theoretical model used in the research is four elements of the Child-Friendly School model developed by UNICEF. The four elements are inclusive of school, gender equality, health promoting school life and protection of the children. The study will guide to identify the strengths and challenges in all four elements which can be beneficial in improving the quality of education and in maintaining the child-friendly environment.

The researcher used Semi-structured interview while collecting data and interviewed 8 respondents- 3 students, 3 teachers, and 2 parents. The questions were based on four elements of UNICEF Child-Friendly School model, interviews were recorded and transcribed. The design of the research was qualitative, explorative and comparative analysis comprised with visual ethnography to capture the current situation of the school.

The data analysis indicated various successes and challenges of the school. The first element- Inclusive of school revealed equality within teachers, students and parents of the school. Also, good learning environment, need for improvement in communication between teachers and parents as well as school management committee were also seen in the interview. Similarly, the second element indicated presence of gender equality in the school; however, the role of the teachers was seen to be stereotyped, as most of the female teachers were seen to be teaching primary level students and male teachers in secondary level. The third element consists of health promoting school, and the interview pointed out the unavailability of general health facilities, doctor or nurses and not enough first-aid boxes in the school although free health camp and blood donation program are organized. The personal hygiene is maintained well. Further, the school buildings are earthquake-resistant but the biggest issue has been the dust from the construction work inside the school buildings. The fourth element highlights the need for accomplishing proper code of conduct about harmful acts such as bullying, harassment, and substance abuse; corporal punishment has also been one of the main concerns as minor punishments were seen in the school. Besides, the positive comments from the respondents regarding the effort and support of the school in the personal growth of the students were impressive.

The findings offer approaches for organizing awareness programs, workshops, maintaining child-friendly infrastructure and information dissemination regarding school management committee, disabled-friendly environment, and reproductive health.