Asylum seeking mother's realizations and construction of motherhood in the context of finnish reception center in Rovaniemi
Ritu, K C (2016)
---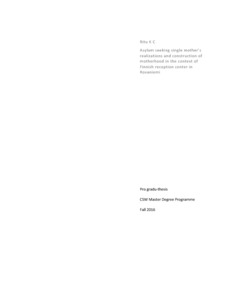 Lapin yliopisto
2016
openAccess
Julkaisun pysyvä osoite on
https://urn.fi/URN:NBN:fi:ula-201710041332
Tiivistelmä
There are numerous people around the world who are forced to leave their country and family due to various reasons and migrate to other countries looking for safety and protection. Among those groups Single mothers are also one of the highly-affected group. Previous researches show that single mothers often face a lot of challenges among others, adjusting to a new environment, coping with parental skills in a new culture.

Thus, the study was conducted with an aim to understand the concern of the asylum-seeking mothers in the reception center in Finland in relation with their children. To explore how their motherhood has been changed after coming to new environment and how reception center is helping them and how they still manage to cope despite of this stressful situation. Meanwhile, the thesis also aims to uncover if there is any task that reception center can carries out to empower asylum seeking mothers.

In total, 4 participants "asylum seeking single mothers" from reception center, Rovaniemi, Finland were taken for research for the thesis. There were few single mothers now and due to the limited time Researcher had to take 4 participants even though as in the plan 5 participants were expected.

All the participant mothers were from different countries and almost from different continents, and they have stayed in Finland for at least few months. The Researcher decided to interview participants with a significant day of stay in Finland, because the research explicitly needed mothers who have been adapted in Finland, Reception center. Thematic Analysis was used to analyze the data. Various theoretical concepts such as that of resilience, empowerment was used analyze data.

The finding explores the difficulties that the single asylum mothers have in coping with the new environment and culture. At some point, even their expectation and the reality after they came here seemed to have a huge gap. They seemed to be worried more about their children's future. They also shared that as a single parent it was difficult for them to go through asylum process. The respondent mothers seemed to have power from the hope they get from their children' happiness and success in future. Some mothers even mentioned about how God is helping them to cope with difficult life situations so there were various forms of resilience single mother were using to cope with their situations. Respondents also perceived that they empower themselves through overlooking the past situation they have overcome whereas some mentioned that different programs organized by Reception center has helped them to gain back their self-esteem and confidence.

The study indicates toward the need of more financial support from the respective authorities for the single parent.