"Disgorgement and the CISG – Comparative and Future Perspectives"
Rostila, Onni (2017)
---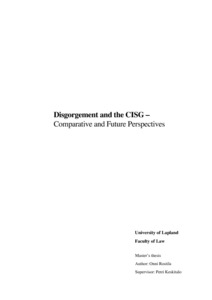 Lapin yliopisto
2017
openAccess
Julkaisun pysyvä osoite on
https://urn.fi/URN:NBN:fi:ula-201711021360
Tiivistelmä
In the traditional contract law doctrines of both civil- and common law the liability of the party who breaches a contract is limited to paying compensatory damages for the injured party's provable loss. According to the doctrine of disgorgement, however, the function is to strip the profits that were made through the breach.
This thesis introduces and analyzes the so-called disgorgement remedy within contract law and specifically under the United Nations Convention on Contracts for the International Sale of Goods (CISG). Closely related issues include the application and influence of the principle of good faith within the CISG and the principle of full compensation, which might preclude the applicability of disgorgement under the CISG.
The doctrine of disgorgement was not discussed at the time of drafting the CISG and therefore the question must be resolved instead through interpretation. More specifically, by virtue of the CISG's interpretation doctrine, the interpretation shall be conducted with the help of the general principles underlying the Convention. Therefore, the principles such as good faith and full compensation and their appropriate interpretation are highly relevant to this thesis.
In order to understand the remedy and its possible operability within the CISG, this thesis provides background information about disgorgement by way of introducing different theories and viewpoints through which this remedy has been evaluated, namely theories of efficient breach and corrective justice.
As a comparative viewpoint, this thesis analyzes some of the recent developments within common law, where there has been an observable drift towards accepting disgorgement in certain limited sets of circumstances. In particular, the most articulated acceptance of the remedy in the form of Restatement (Third) of Restitution and Unjust Enrichment of the U.S. will receive considerable attention.
This thesis concludes that the interpretative analysis regarding this issue as well as the issue of good faith under the CISG need to be discussed and should preferably be also addressed by the CISG Advisory Council. Should disgorgement become feasible under the CISG, it is the writer's contention that this would require further interpretation of Art. 84 CISG and recognition of this article as an embodiment of a general a general principle lending support for disgorgement.